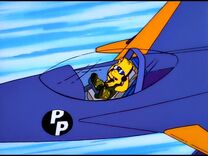 Drop Da Bomb (also known as Yvan eht nioj) is probably the most subliminal song recorded by Bart, Milhouse, Nelson and Ralph as Party Posse in the episode "New Kids on the Blecch". The most subliminal part of the song is its refrain, "Yvan eht nioj," which is actually "Join the Navy" spelled backwards.
Lyrics
Party Posse:
Oh, say can you rooooccccccckkkk?
Milhouse:
There's trouble in a far off nation.
Ralph:
Time to get in love formation!
Bart:
Your love's more deadly than Saddam.
Nelson:
That's why I gotta drop da bomb!
Arab:
Party Posse!
Female Singers:
Yvan eht nioj!
Yvan eht nioj!
Yvan eht nioj! Eht nioj!
Yvan eht nioj!
You gotta love that crazy chorus.
Lisa:
What does it mean?
Homer:
Uh, it doesn't mean anything. It's like Rama-Lama-Ding-Dong or "Give Peace a Chance."
Nelson:
This party is happening
It's no mirage
Bart:
So sing it again -
Milhouse:
Y
Ralph:
van
Nelson:
eht
Party Posse:
nioj!
Female Singers:
Yvan eht nioj!
Yvan eht nioj!
Community content is available under
CC-BY-SA
unless otherwise noted.