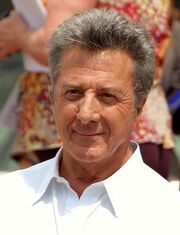 Dustin Hoffman is a guest star on The Simpsons who played Mr. Bergstrom in "Lisa's Substitute". For contractual reasons, he is credited under the name of Sam Etic. Like Mr. Bergstrom, Dustin Hoffman is Jewish. Sam Etic sounds like Semitic (Jewish) so it might be a play on words. In Lisa's Subtitute, there's a joke between Mr. Bergstrom and Mrs. Krabappel, referencing "The Graduate". A movie Dustin Hoffman starred in as the main character Benjamin Braddock.
| | | |
| --- | --- | --- |
| | D'oh! | This article is a stub. You can help the wiki by embiggening it. |
Community content is available under
CC-BY-SA
unless otherwise noted.