| | | |
| --- | --- | --- |
| | Elementary School Musical | |

"Elementary School Musical" is the first episode and season premiere of Season 22. (Originally in production as the final episode of Season 21).
Synopsis
Marge sends Lisa to a performing arts camp where artsy counselors (guest voices Jemaine Clement and Bret McKenzie of Flight of the Conchords) and fellow musically inclined campers (guest voices Lea Michele, Cory Monteith and Amber Riley from Glee) inspire her to embrace her creative side. After she returns to Springfield, Lisa becomes restless with her boring suburban lifestyle and catches the first bus to Sprooklyn in hopes of reconnecting with her inner hipster. Meanwhile, Krusty gets tricked into the International Supreme Court for all the bad deeds he has done.
Full Story
When the announcements for the Nobel Prize winners is broadcasted early in the morning, about 4:00 AM, Homer comes down and asks why Lisa and some of her pals and Bart's friends are still up. It turns out that Krusty has been awarded the Nobel Peace Prize. At the announcement in front of Springfield Town Hall, Mayor Quimby announces to the rest of the town that Krusty has won. As Krusty cracks jokes, Homer is the only one who laughs at them. Krusty then takes Homer to his limousine. In the motorcade, Krusty tells Homer that he wants to be accompanied to Oslo, Norway for collecting the prize because Homer always laughs at Krusty's jokes. Homer asks if he can take Bart along, to which Krusty agrees.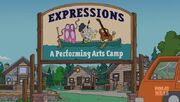 As they board Peace Prize One, Lisa becomes miserable because she never goes anywhere fun. Marge then doesn't go back home but instead takes Lisa to Expressions, a performing arts camp run by counselors Kurt Hardwick and Ethan Ballantyne. Here, she meets fellow campers Amber Riley, Lea Michele and Cory Monteith. They instantly get along through the song.
As the plane lands, Krusty, Homer and Bart get off to find that they are not in Oslo at all but they were in Hague, Netherlands. A Dutch policeman tells them that Krusty is to be arrested and tried at the International Court of Justice for his bad behavior in Western Europe. The only way for him to be liberated was if there is evidence suggesting that Krusty has helped Western culture. Homer and Bart search for the evidence.
Lisa really loves life in Expressions. They sing a lot of songs and even had Stephen Hawking join in as well. Marge eventually comes to the camp and tells Lisa that her time is over. Lisa looks through her camera at all of the photos to realize that Marge was right and it has been a week. Then they go home.
Bart and Homer desperately search for evidence on the internet and only discover Krusty's bad behavior. They then find something they feel would get Krusty free. At the courthouse, they show the evidence that Krusty inadvertently helped out in one of his bad moods, by telling the band to play vuvuzelas which led to Nelson Mandela being liberated. Krusty is then given his freedom.
Meanwhile, Lisa travels to Sprooklyn to find Ethan and Kurt, thinking that it was the glamorous place the boys thought the location turned out to be. Instead, she finds a place full of vandalism, falling down buildings and tramps. She finds Kurt's flat, 652 8th Avenue, and finds that it is a run down place, too. It turns out that they work in the sandwich shop, Sprubway, and that they are low on money as artists don't get a lot. They then sing Lisa a song with a message opposite to their previous one, about how artists aren't important and tell her not to be one. Lisa eventually calls Marge for a ride back to Springfield as she agrees of hating Sprooklyn.
Marge picks Lisa up outside Dregs, where musicians can play music. Kurt and Ethan reveal that they have left Lisa a surprise as she departs Sprooklyn. As she takes off, one of the buildings has a mural of Lisa on with Kurt and Ethan on the roof. They ask each other how they got up there so quickly as they were outside their flat a minute prior. They then reveal to have magic powers and fly back to their job.
Songs
Song #1
By: Lea Michele, Cory Monteith, Amber Riley and Lisa
Lea: I... I love the elegant pearls you wear,
Cory: And the starfish shape that constitutes your hair,
Amber: You'll be staying in Cabin 12,
Cory: And we think that you'll be very happy there,
(instrumental)
All: You're gonna love arts camp, Lisa,
Marge paid with her Debit Visa,
(Repeats four times in the background)
Lisa: Arts, arts, arts, education
(Repeats Three Times)
Song #2
By: Ethan, Kurt, and Lisa
Ethan: Artists are the people who hold up a mirror,
Kurt: Artists make society see its face clearer,
(ha ha ha)
Both: artists help stamp out oppression and war
And when we camp outdoors, we make the best s'mores.
Both: three layers, motha nature. Mmm, mmm, yeah, yeah
Both: artists end poverty with music and dance.
Both: artists make art on the beaches of France.
Lisa: I never knew artists were all so amazing.
Ethan: Excuse me while I talk to this cow that's grazing,
"I give art, like you give milk."
Both: Everyone listens when artists are talking, because artists are smarter than Mr. Stephen Hawking.
Stephen Hawking: Oh, yeah, break it down for me, fellas.
SH: A brief history of rhyme
Lisa: Do you think that I could be an artist in the city?
Kurt: Hold on Lisa, let me check with the committee
"So what do you guys think?"
SH: Yes.
Cow: Moo.
Ethan: I agree.
Both: Yes, Lisa you can be an artist in the world, but move to the city when you're less itty-bitty girl.
To the gritty city when you're less itty-bitty girl.
The city's pretty gritty for an itty-bitty pretty girl.
Behind the Laughter
Production
The episode was announced on August 2, 2010. It guest-starred Lea Michele, Cory Monteith and Amber Riley from the popular TV series Glee to perform in the very musical episode. The actors had previously revealed their appearance on Twitter. Tim Long wrote the episode.
Reception
"Elementary School Musical" was viewed by 7.8 million households. The rating was down 14% from the previous season's premiere.
The A.V. Club gave the episode a C+, and wrote, "I liked many of the elements of the season premiere [...] I have no idea if the writers wrote new songs for the two guys in Flight of the Conchords to sing (as Lisa's arts camp counselors), but the songs they sang were pretty weak. Similarly, bringing in the Glee kids to sing a take on "Good Vibrations" that was, frankly, awful mostly just felt like an attempt to have guest stars in nothing parts so they could be promoted.", explaining how Glee's role was minor compared to the moral teaching the teachers give at the end of the episode.
Citations