"Hello! Itchy & Scratchy Land, open for business!"
―French Worker in a Ticket Booth
Euro-Itchy & Scratchy Land is the European version of the Itchy & Scratchy Land theme park. The park has an extremely poor attendance rate, and unlike its American counterpart, it did not suffer a robot uprising. It was shown with a French worker in the ticket booth talking about the park (trying to promote it). The parking lot and theme park were entirely empty.
Behind the Laughter
Euro-Itchy & Scratchy Land is a reference to Disneyland Paris, originally known as Euro Disney, and the fact that consumer attendance at that park has been too low to make any profit in most years since its opening.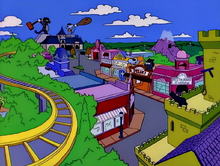 Appearances
Community content is available under
CC-BY-SA
unless otherwise noted.