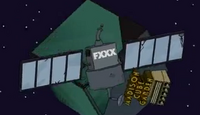 FXXX is a New New York satellite TV channel.
History:
In 3014, the Madison Cube Garden with all the Bart-like creatures in it crashed into an FXXX satellite. It's possible that the TV channel has adult programming, which is normally marked with "XXX".
Behind the laughter:
FXXX is a parody of cable channels FX and FXX. FXX broadcasted the Every Simpsons Ever marathon from August to September 2014 and The Simpsons 600 marathon from November to December 2016.
Appearances
Community content is available under
CC-BY-SA
unless otherwise noted.