Fiesta Terraces is an apartment complex where Jacques lives. It is on a turn off when heading towards the Power Plant. Its exact location is unknown.
History
Jacques is a man who was in love with Marge Simpson. They both met at the Bowlarama. Homer had purchased a bowling ball for Marge for her birthday. Homer was expecting her to hate the present so she would give it to him, he even had his name engraved on the ball! Marge, to spite him, took the ball out to go bowling. There, she met a handsome bowler named Jacques. He offered to give Marge bowling lessons.
Marge began seeing him on a regular basis for lessons, seeming oblivious to Jacques heavy flirtations. That was until finally he propositioned her to come to his apartment, the Fiesta Terrace, for some romance. She fantasized about it, but chose to stay with Homer.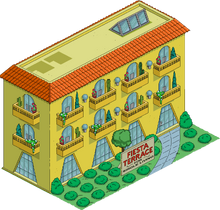 Appearance
Community content is available under
CC-BY-SA
unless otherwise noted.