Florida is a location in the Simpsons and in real life. It became the 27th U.S. State in 1845.
History
Florida first appeared in the episode "Deep Space Homer", when Homer and Barney go down to Cape Canaveral for astronaut training. The first episode where the entire Simpson family goes to Florida is "Kill the Alligator and Run", where the Nuclear Plant's counselor suggests Homer go to Florida to heal his insomnia; Homer calls Florida "America's Wang." During the episode, the Simpson family's fun times are cut short when they accidentally kill the state's beloved Alligator. Florida also appeared in "Special Edna" when Bart nominates Edna Krabappel for Teacher of the Year and the Simpson family goes to Orlando, Florida, to attend the Teacher of the Year award show, as well as "Catch 'Em if You Can" when Homer and Marge ditch Uncle Tyrone's birthday party to go on a second honeymoon in Miami, Florida, prompting Grampa, Bart, and Lisa go down to Miami.
In Real Life
Florida is the home of Universal Studios Orlando, which features the Simpsons Ride, Kang & Kodos' Twirl 'n' Hurl, and Fast Food Boulevard.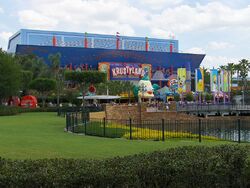 Appearances
Community content is available under
CC-BY-SA
unless otherwise noted.