France
is a country in western Europe, officially named the "French Fifth Republic" and the capital city is
Paris
. It is famous for it's food, and the
Eiffel Tower
, as well as many other things most American people don't know about. Since 1 January 2002, the currency of France and it's overseas colonies has been the Euro. Before 2002, they used the French franc.
Bart
visited France in a student exchange program with
Adil Hoxha
.
[1]
Homer
and
Carl Carlson
visited Paris on a business trip
[2]
and the whole Simpson family escaped to France after
Bart
mistakenly mooned the American flag.
[3]
Krusty
came to France to find
Princess Penelope
after he left her.
[4]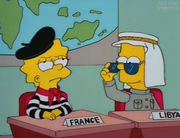 The
Bouvier family
are of French origin, and is also implied that
Jacques
is from France.
Lisa represented France in the Model U.N. Club.[5]
Non Canon Appearances
The Simpsons Game
In The Simpsons Game, France is also a place in the eating contest Around the World in 80 Bites.[6] In the level "Medal of Homer", Homer and Bart had to save France by removing all the surrender flags.[7]
Treehouse of Horror
In the Treehouse of Horror VIII segment "The HΩmega Man," Mayor Quimby insults France while telling a "frogs leg joke." France demanded that Mayor Quimby apologize or suffer the consequences. Quimby unwisely refused to apologize and told them to "do their worst." In retaliation the French launch a nuclear attack on Springfield, killing almost everyone except the Simpsons, while mutating several other surviving citizens.
The Count of Monte Fatso story takes place during 19th Century France where Moe Szyslak breaks up Homer and Marge by framing Homer as a English traitor.
Appearances
Citations
Community content is available under
CC-BY-SA
unless otherwise noted.