Francesca Terwilliger (née Vendetto) is Sideshow Bob's second wife. She is Italian and has a son named Gino.
History
At first she knew nothing of her husband's multiple murder attempts. When she does become aware, she helps Bob try to kill the
Simpson family
. She and
Gino
, along with Sideshow Bob's
mother
,
father
, and brother attempted to have Bart incinerated to get revenge.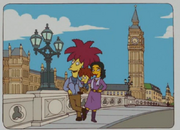 Her design may be based on her voice actress, Maria Grazia Cucinotta.
Francesca is also the "Finger-Pointing Blame Shifter" type of mom you meet at the PTA.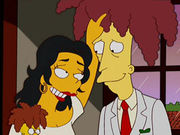 Appearances
Gallery