The Futurama/Simpsons Infinitely Secret Crossover Crisis is a two part crossover between the animated series Futurama and The Simpsons. It was published in 2002 and 2003 by Bongo Comics. A sequel, Futurama/Simpsons Crossover Crisis II, was published in 2005.
In the US, the series was published as its own series, independent from Simpsons Comics and Futurama Comics. In the UK, it was published as issues three and four of the regular Futurama British Futurama Comics series.
Plot
The story relies on the Futurama episode "The Day the Earth Stood Stupid". In that episode, the Brain Spawn transported Fry and Leela into many works of literature, including Tom Sawyer and Moby Dick. It also makes use of the idea that Futurama is "real" and The Simpsons is just a TV show in the Futurama universe (as it is in ours).
Part One: Somewhere Over The Brain-bow!
The comic begins in Springfield, with a mayoral election between current mayor Joe Quimby and Snowball II, the Simpsons' cat. It turns out that this is in fact an old edition of Simpsons Comics, which Fry is reading as the Planet Express crew head to the living planet of Nerdanus XII. They are taking the biggest comic collection in the universe to the planet, where it will be sealed in liquid diamond forever, as this is apparently the only way they will be collectibles.
While unloading the comics, the crew are hit by the Brain Spawn's stupifaction ray, which drastically decreases any living being or robot's intelligence. Fry, however, is the only being in the universe unaffected, due to his lack of a delta brain wave. Fry, by throwing objects at the Brains, manages to make Leela and Bender intelligent again, but the crew are then trapped inside various comics and adverts by the Brains.
Bender manages to use a spoiler ray to force the Brains to reveal their plan. They plan to take over Earth by creating a false collector's market - by sealing comics up, they will no longer be able to be read. They will then do this with films, books, paintings and other art, until with it collective intelligence of Earth will is gone and will be low enough for them to invade. Fry says that the rest of the Planet Express crew would avenge their deaths, so Professor Farnsworth, Hermes, Amy, Scruffy and Dr. Zoidberg are brought to the planet. Another remark by Fry gets the crew, plus Nibbler, trapped inside an old Simpsons Comic, the one Fry had been reading earlier.
Apart from Fry and Nibbler, the crew get amnesia and wander off into the world of Springfield. After Nibbler realises that they would be more likely to find the main characters (i.e., the Simpsons), Fry sets out to find them.
Bender goes into Moe's (to celebrate his new found sobriety) and meets up with Homer Simpson, who assumes that he's the new Duff beer mascot. Fry heads to Springfield Elementary, where after being mistaken as the new sub teacher, he becomes the teacher of Bart Simpson's class. He tries telling Bart of his origins, but naturally Bart does not believe him and has him locked in the school at the end of the day. Leela sees Lisa Simpson being bullied by classmates and helps her stand up for herself. Hermes and Zoidberg end up at the power plant, where they attract the attention of Mr. Burns and Smithers. Scruffy also becomes assistant groundkeeper at one point and argues with Groundskeeper Willie. Marge Simpson mistakes Nibbler for a baby (due to him hypnostising her) and gives him milk, which causes him to lose his memory as well. And Farnsworth is arrested by the police after they think he's insane.
This issue was published in Britain as Futurama Comics #3.
Part Two: Liquid Diamond Is Forever!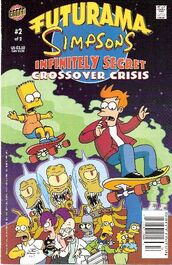 Bender is thrown out of Moe's for doing something with the love testing machine, so Homer gets Ned Flanders to give Bender a room. He later escapes after Flanders catches him doing something else with his jukebox. At the Springfield Retirement Castle, Professor Frink overhears Farnsworth talking with Abraham Simpson and realises that Farnsworth is a genius, and breaks Farnsworth out. And at the Springfield Country Club, Zoidberg "saves" Mr. Burns from choking by using a toaster. Burns makes Zoidberg his personal physician.
Next morning, when school starts, Fry manages to convince Bart that he's telling the truth by showing him the comic they're both in. They fly through Springfield on hovering skateboards using some anti-gravity gum. At the power plant, Zoidberg sneezes over Hermes which causes him to regain his memory. Their talk about the future is overheard by Mr Burns, who kidnaps them.
Lisa takes Leela back to her house, where she complains that Bart gets all the attention. Leela tells her she's a special girl and should take attention if not given it. Maggie enters, followed by Nibbler and Marge - seeing Nibbler gives Leela her memory back. Nibbler quickly fills everyone in on the plot using his mental powers. Fry and Bart arrive, followed by Homer and Bender. Nibbler senses great danger, so everyone gets in the Simpsons' car to head to the power planet. They use the anti-gravity gum to beat a traffic jam, but Homer spits it out after the flavour goes. The car lands on a Duff blimp, but Bender's cigar causes it to explode. Falling again, they are caught by Frink and Farnsworth on their flying motorcycle. Since the car is overweight, Fry (with his holophoner) and Lisa are left behind.
The others arrive at the power plant to find out that Mr. Burns will turn Zoidberg into radioactive bisque unless they take him to their "future world". Farnsworth and Frink have invented a device that might get the Planet Express crew back to their own world, which Burns takes. Smithers then takes it from Burns, and reveals himself to really be Amy in disguise! Unfortunately, the real Smithers, dressed up as Mr. Burns, retakes the device. Just as the real Burns is about to use the device, aliens from the "Galactic Time Council" (who look remarkably like Kang and Kodos, but aren't), arrive with weapons. Burns and Smithers run off, after which it is revealed the aliens are in fact the result of Lisa playing on the holophoner, with Fry doing the voices.
The Professors use their machine, which causes a tear in the comic. Nerdanus XII zaps the brains for the tear, which shatters the barrier around the comic. This means the crew can finally go home..... where it is revealed that New New York is now filled with the citizens of Springfield in an "ironic twist ending".
This issue was published in Britain as Futurama Comics #4.
Behind the Laughter
The series was written by Simpsons Comics writer Ian Boothby and illiustrated by James Lloyd. The ending was originally written as a joke ending, but later Boothby and Lloyd used the ending to create the sequel to the series, Crossover Crisis II.
Part One was released on August 21, 2002 and Part Two on January 28, 2003 in the USA - both parts were released in early 2003 in the UK as simply "The Simpsons/Futurama Crossover Crisis" and also contains Crossover Crisis II. (This also happened in Spain in 2011)
Citations
Back to the Future Part II - when Bart and Fry are using "hoverboards" through Springfield. Comic Book Guy accuses them of ripping off this film.
The title is a reference to DC's Crisis on Infinite Earths and Marvel's Secret Wars.
When Mr. Burns hears Hermes and Dr Zoidberg discussing their problem, he enters the room with two bodyguards, one of which looks remarkably similar to Fry's father.
Goofs
Principal Skinner says that Mrs Krabappel is "home sick after eating some undercooked steam hams", but she was seen earlier in a crowd scene - although she could have faked sick to take the day off.
When Bart arrives at school in Part Two, he is wearing a blue shirt, but then switches to his usual red-orange shirt in the next panel.
The fact that comics give "false hope" for X-ray glasses contradicts with "How Hermes Requisitioned His Groove Back," where Bender uses his "lucky specs" to cheat in poker.