(18 intermediate revisions by 4 users not shown)
Line 1:
Line 1:
−

[[File:Gallip-olopoly.jpg]]

+

[[File:Gallip-olopoly.jpg]]

 
+
 

'''Gallip-olopoly''' is a board game.

 

'''Gallip-olopoly''' is a board game.

 
 
 

==History==

 

==History==

−

It is one of many board games like [[Star Wars Monopoly]], [[Rasta-Mon-opoly]], and [[Edna Krabappoly]] the Simpson family owns.

+

It is one of many board games [[Star Wars Monopoly]], [[Rasta-Mon-opoly]], and [[Edna Krabappoly]].

 
+
 
+

==Behind the Laughter==

 
+

It is a parody of [[Monopoly]]. Gallipoli is an area of Turkey known for being a battle site in World War I, and the box features Mr. Monopoly dressed as a soldier from the era (and being killed via headshot).

 
 
−

==Appearance==

+

====

 

*{{ep|Brawl in the Family}}

 

*{{ep|Brawl in the Family}}

 

[[Category:Games]]

 

[[Category:Games]]

 
+

[[Category:Board Games]]

 
+

[[Category:Parodies]]

 
+

[[Category:Brands parodies]]
---
Latest revision as of 00:43, 29 August 2018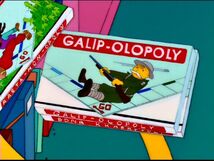 Gallip-olopoly is a board game.
History
It is one of many board games owned by the Simpson family, which also includes Star Wars Monopoly, Rasta-Mon-opoly, and Edna Krabappoly.
Behind the Laughter
It is a parody of Monopoly. Gallipoli is an area of Turkey known for being a battle site in World War I, and the box features Mr. Monopoly dressed as a soldier from the era (and being killed via headshot).
Appearances