Ginger Flanders is Ned's Vegas wife whom he married after getting drunk while on vacation in Vegas with Homer.
When Homer and Ned got drunk at Las Vegas, Homer married Amber and Ned married Ginger. Amber and Ginger later dumped them at the desert because they tried to escape.[1]
Ginger and Amber later went to Springfield to stay with their husbands. Ginger left him because Ned, Rod and Todd were too good (they flushed her cigarettes down the toilet and sang all day).[2]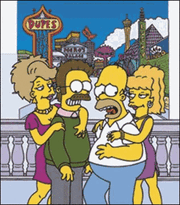 Appearance
Ginger has fluffy, light brown hair. She wears a red-purple dress, a necklace, and gold triangular-shaped earrings. She wears heavy blue eye-shadow and pink lipstick. She also wears a gold ring with a blue jewel (possibly a sapphire) on it.
She is not as promiscuous as Amber.
Trivia
Ginger and Amber are implied to have lost contact, as she was not at Amber's funeral.
The Simpsons miss out on every opportunity to kill her off. This includes
Episodes Appearances
Citations