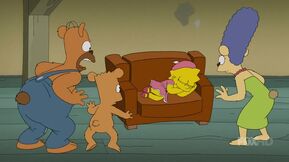 Goldilocks was a little girl who slept in the Three Bears house, but then she got caught and couldn't escape due to a chair blocking the door, and she ends up killed by the three bears, with her fatal wounds being such that ample amounts of her blood seeped through the door crack afterward.
She also appears in the couch gag for Bart's New Friend, but this time, she's portrayed by Lisa, and instead of killing her, the bears fight with Goldilocks and later kills Papa Bear (Homer) so they could eat him.
Appearances
Community content is available under
CC-BY-SA
unless otherwise noted.