| | | |
| --- | --- | --- |
| | D'oh! | This article is a stub. You can help the wiki by embiggening it. |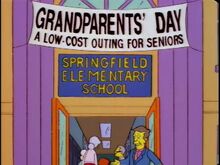 Grandparents' Day (A Low-Cost Outing for Seniors) was an event in which Springfield Elementary School students brought a grandparent to school. Among other things, Nelson brought a judge, and Milhouse brought a man who travels the country in an RV. Unfortunately, Bart was saddled with his senile paternal grandfather, as his maternal grandfather is deceased and it seemed that kids only brought a grandparent of the same gender; if the second grade took part, it can be safely assumed that Lisa brought Jacqueline Bouvier.
Grampa Simpson was obnoxious throughout, interrupting other grandparents multiple times and occasionally spitting; Bart was dreading him speaking to the class and telling rambling tall tales. Grampa brought so much attention to himself that Mrs Krabappel gave him the stage, exactly what Bart was dreading. Kid and adult, bully and nerd alike laughed uproariously at Grampa's nonsensical stories about having chased the Kaiser for "dickety-six" miles in a futile effort to reclaim the word twenty, having invented the "terlet", and having turned cats and dogs against each other. A miserable, embarrassed Bart buried his face in his shirt, knowing he wouldn't hear the end of it for days.
This negative experience at school eroded Grampa and Bart's relationship to the extent that Bart found it acceptable to suggest moving Grampa to a nursing home that he couldn't escape from. Their relationship only recovered as a result of their efforts to prevent Mr. Burns from getting the Hellfish Bonanza.
Appearances
Community content is available under
CC-BY-SA
unless otherwise noted.