Cultural references
Milhouse sings "Sisters are doin' it for themselves!", a song by Aretha Franklin and the Eurythmics and covered on The Yellow Album by Lisa, Ann and Nancy Wilson and Patty and Selma.
The toy, Funzo, is a parody of the popular Furby dolls (although the Furby dolls were mentioned in the story line as an example of a popular toy).
Gary Coleman once worked as a security guard in real life. Coleman spoofed Arnold's (Coleman's character in Diff'rent Strokes) catchphrase, "Wha'choo talkin' 'bout, Willis?", three times.
At the end, the narrator says Mr. Burns was visited by three ghosts in the night which showed him the error of his ways, a homage to A Christmas Carol. Gary Coleman also spoofs Tiny Tim in the same sequence after learning that Moe's Christmas goose was "prepared" by accident due to Moe running over a goose.
The narrator also says that Moe, in his annual suicide attempt, was shown what the world would be like without him after sticking his head in his oven. This is a reference to the 1946 film It's a Wonderful Life.
When Bart and Lisa discovers that Funzo is programmed to destroy other toys to eliminate competition, Bart commented, "You mean, like Microsoft?", which is a reference to the corporate takeovers conducted by Microsoft in the 1990s to eliminate competition.
This episode's title is a pun on O. Henry's short story The Gift of the Magi.
Funzo's metallic frame maybe a reference to the endoskeleton of The Terminator.
The part where Homer steals the Funzos is a reference to How the Grinch Stole Christmas.
Ralph as Dr. Stupid could be a reference to Stimpy's moronic scientist alter ego from The Ren & Stimpy Show.
Trivia
Fat Tony can hide behind a tree which is thinner than him.
Funzo laughs almost like Nelson does. In fact, Nelson may have been an unknown co-developer for Funzo as well as the other kids.
This was the final episode to be aired in 1999 and the 1990s, meaning the last episode of the 20th century.
If you listen very closely, you can hear christmas bells during the 20th Century Fox logo for this episode, This has also been proved by the Alternate Credits Guide.
Looking at the setting and time of this episode, the episode starts around November, and end in December on Christmas day.
Homer also said "If I had a nickel for hearing that" in Homer's Enemy.
Goofs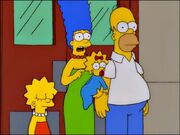 Maggie is shown with a red ribbon on her head, but after Dr. Hibbert touches Bart, her red ribbon becomes blue.
Community content is available under
CC-BY-SA
unless otherwise noted.