Wiki Targeted (Entertainment)
Play Sound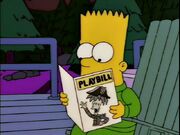 H.M.S. Pinafore is a comic operetta by W.S. Gilbert and Arthur Sullivan. In one of the most memorable scenes in "Cape Feare", Bart asks Sideshow Bob as a "last request" in an effort for performing the entire operetta to stall the evil genius before the Simpsons get back to Springfield on a boat. It is the thirtieth track on the album Go Simpsonic with The Simpsons.
Lyrics
Bart:
Well, there is one, but...Nah.
Sideshow Bob:
No, go on.
Bart:
Well, you have such a beautiful voice.
Sideshow Bob:
Guilty as charged.
Bart:
Uh-huh. I was wondering if you sing the entire score of the H.M.S. Pinafore.
Sideshow Bob:
Very well, Bart. I shall send you to Heaven before I send you to Hell!
We Sail the Ocean Blue
And a two and a three and
We Sail the Ocean Blue,
And our saucy ship's a beauty.
We're sober men and true,
And attentive to our duty.
I'm Called Little Buttercup
I'm called Little Buttercup, poor Little Buttercup,
Though I could never tell why.
What, never?
No, never!
What, never?
Sideshow Bob and Bart:
Hardly ever!
He's hardly ever sick at sea!
He is an Englishman
For he himself has said it,
And it's clearly to his credit,
That he is an Englishman!
He remains an Englishman!
Trivia
In Stark Raving Dad, Smithers mentions having been in a production of the opera in 1974.