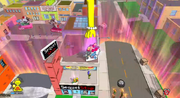 The Hand of Buddha (or Buddha's Hand) is one of Lisa's main powers in The Simpsons Game, along with her saxophone.
In levels with Lisa as a playable character, there are several gold Buddha statues on top of small Bodhi Trees in a specific place. In the DS version of the game, it's a statue of Lisa's arm and hand along with her pearl necklace on the arm and a pink base under the arm. This is a meditation point Lisa can enter and concentrate in. When she does so, the camera goes to air view and magical pink walls appear in the area, with Lisa's hand appearing on top. A green circle appears on the floor right under Lisa's hand and when it is positioned on something that can be grabbed, that thing grows a green light. Using her mind, Lisa can move her hand, pick things up and drop them wherever she wants, within the limits of the pink walls and without moving out of the meditation point. Among the most common things Lisa can pick up are rocks to drop them on enemies, cars or other useful thing to solve puzzles. Her power is improved in the level "Enter the Cheatrix", in which Lisa finds a page for a Simpsons Game guide that explains new powers. Starting from this level, she can also kick enemies using her hand. This power is improved again in the game engine, where Professor Frink teaches Lisa a new power. Starting from the level "Grand Theft Scratchy", Lisa can use the Hand of Buddha to electrocute and freeze enemies with her hand from above. When she freezes an enemy, he turns into a big ice block Lisa can pick up and drop to destroy it.
After Lisa gains her Freezing, Lightning, and Flick powers, she will meditate and float when using the Hand of Buddha.
Lisa discovers her powers in the "Lisa the Tree Hugger" level.
Appearances
Community content is available under
CC-BY-SA
unless otherwise noted.