Harry Julius Shearer is a starring voice actor on The Simpsons. He provided the voices of many characters, among them Reverend Lovejoy, Charles Montgomery Burns, Ned Flanders, and Seymour Skinner -- to name only a few. Following a contract dispute, Shearer announced that he was leaving the show in May 2015. Two months later in July, he renewed his contract for Seasons 27 and 28. He will get $300,000 per episode along with other rights.[1]
Biography
Shearer began acting at the age of seven at the suggestion of his piano teacher-turned-agent. He made his film debut in the classic Abbott and Costello Go To Mars and had a small role in the first CinemaScope movie The Robe.
He often appeared on The Jack Benny Show as well as GE Theatre, Alfred Hitchcock Presents, and played the role of Eddie Haskell in the pilot episode of Leave It To Beaver.
Shearer gained national recognition as one of the creators and stars of This Is Spinal Tap, where he portrayed heavy metalist Derek Smalls in the mock rockumentary.
Shearer was a writer and cast member of Saturday Night Live.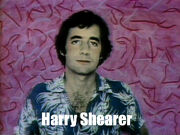 for two seasons. His on-screen performance as a NASA recruitment official in The Right Stuff shows that he can also support a convincing "establishment" persona as well. Shearer's other film work includes Oscar, The Fisher King, Wayne's World II, and Pure Luck.
His television work has included Politically Incorrect, Martin Mull's Portrait of a White Marriage, HBO Comedy Hour Live: The Magic of Live, Fernwood 2 Night, Ellen, Friends, Murphy Brown, LA Law and The News Hole for which he won an Ace Award for Best Game Show ('95).
In the 1998 American Remake of Godzilla, Shearer played New York anchorman Charles Caiman along with fellow Simpsons co-stars Nancy Cartwright as newswoman, and Hank Azaria as Victor "Animal" Palotti. His character was not shown in the animated series of Godzilla. He was a sports announcer in the Little Giants.
On May 13, 2015, Harry announced via Twitter that he had received a letter from the lawyer for James L. Brooks stating "show will go on, Harry will not be part of it, wish him the best".[2] Later that day, he clarified that he is still in negotiations to renew his contract for Seasons 27 and 28, with the main point being that he would still be able to do outside work, such as being in a UK TV show and acting on the London stage.[3]
Credits
Starring (1989-present)
Season 1

Season 2

Season 3

Season 4

Season 5

Season 6

Season 7

Season 8

Season 9

Season 10

Season 11

Season 12

Season 13

Season 14

Season 15

Season 16

Season 17

Season 18

Season 19

Season 20

Season 21

Season 22

Season 23

Season 24

Season 25

Season 26

Season 27

Season 28

Season 29

Season 30

Season 31

Season 32
Writer (2016)
Harry Shearer's Characters
External links
Citations
Community content is available under
CC-BY-SA
unless otherwise noted.