"Won't somebody please think of the children?!"
―Helen Lovejoy's catchphrase
Helen Lovejoy (née Schwartzbaum)[1] is Reverend Timothy Lovejoy's judgmental and gossipy wife and the mother of Jessica Lovejoy. It is hinted that she is the godmother of Lisa and Bart Simpson. According to The Parson, she used to be a boy earlier, as he remembers her when she was Harold Schwartzbaum[2], however it is considered to be unlikely, as she appeared in a flashback as a young girl.[3] Helen can act very mean and gossipy and is part of a fleet-a-pita club with members Edna Krabappel, Agnes Skinner, Luann and ex-members Maude Flanders (who passed away) and Marge Simpson, who the club kicked out in The Twisted World Of Marge Simpson.
Early life
Growing up in a little house on the prairie, where the only pastimes a young woman had were baling hay and fixing the hay baling machine, Helen fought off boredom by keeping herself up to date on the personal affairs of her neighbors. When a dashing young bible salesman from Springfield named Timothy Lovejoy showed up at her door, she found herself entranced by his Protestant good looks and his thrilling stories of the big city. By force of habit, Helen accidentally spread a rumor about herself and Lovejoy, and they were forced to marry.[4]
In addition, Helen once attended a camp with Marge when she was 10. She was punished by having a fork stuck in her hand because she could not remember which out of 34 forks was an olive fork. It is hinted that she was punished in this manner many times. She used to sell cosmetics, but her husband asked her to quit because she was making more money than he was.
Appearance
Helen Lovejoy has large eyes with long lashes. She usually wears a pink sweater, with a light blue shirt underneath, a blue skirt, and plain black shoes. She used to have brown hair, then changed it to red, and then gray. In some episodes her pink sweater is long sleeved. When she was younger, she used to have pink hair.
Personality
Helen is the wife of Reverend Timothy Lovejoy and the mother of Jessica Lovejoy. She is a fair-weathered, judgmental, moralistic person and the typical town gossip. She thinks she can win by finding out secrets, and people joining her alliance so that she won't reveal their secrets. She introduces herself as "the gossipy wife of the minister"; when she has nothing else to gossip about, she resorts to telling secrets about her own personal life. She is part of a gang of housewives, containing herself, Luann, Agnes and ex-members Marge and Maude in which they sponsor and invest in companies and boxers.
Her moral convictions look to always defend the interests of the minors, which explains her famous catchphrase, delivered in times of civic crisis (moral or otherwise): "Will someone please think of the children?". Often unaware that the kids of Springfield actually like most of the stuff she deems unsuitable.
Helen is also openly conservative, and was seen at the Republican Headquarters located at a haunting location.
In "Marge in Chains", despite stating that she will use her gossip for good instead of evil, she continues to spread gossip at the expense of the Simpson family throughout the series.  In the episode "The Frying Game" she is in the court that decides over Homer and Marge's fates after supposedly killing a valuable insect. In "The Fabulous Faker Boy." Helen goes out of her way to give a backhanded compliment to Bart to spite Lisa, It's also implied she is a drinker when she 'rewards' herself for causing the Simpsons trouble by picking up a large case of wine. She is particularly vindictive towards Marge.
Although she is very religious and conservative she is seen cheering when Seymour Skinner suggested that they should trade a giant check given to the school in a liquor store nearby.[5]
Marge-Helen conflict
Marge and Helen have a frenemy relationship. Helen is known to share gossip with Marge, but spreads gossip about Marge as Helen is Lisa's godmother. This, however, is said during a Halloween special and is therefore considered non-canon.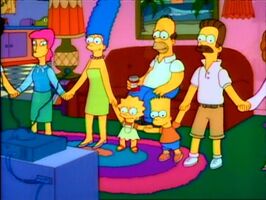 Marriage
Helen and Timothy have a stronger marriage than many other Springfieldians (save for Ned and Maude, and probably Dr. Hibbert). Many couples turned to divorce (Kirk and Luann Van Houten[6]) or consistently argue, bear many kids, and have trouble with money (Cletus and Brandine Spuckler); however, Helen is somewhat patient of Timothy. Once Timothy spends more time on his own and slowly loses his mind, but Helen remains patient, however worried.[7] Helen once mentions her mother is going to visit them and Timothy makes an insult saying that after Helen's father died, her mother visits them too much. However, once when her daughter, Jessica Lovejoy was running down the field to shoot a soccer goal. Helen screamed, "Get it in, sweetie, and save our troubled marriage!"[8]
Friends
Gallery
Appearances
Citations