| | | |
| --- | --- | --- |
| | Hello Gutter, Hello Fadder | |
Trivia
When Homer interrupts Penn & Teller's show at the Springfield Amphitheater, he is wearing his Pin Pals jersey from "Team Homer".
It is revealed that Bart has a crush on Terri. However, when Homer says this, no one in the class seems to think much of it.
This is the second time somebody strangles Homer the way he strangles Bart. The last time was in the short Shut Up Simpsons.
When Maggie gets took back on a washing line, this is another reference to when the UK's Channel 4 promoted its first broadcast of The Simpsons where Maggie is being held back on a line in front of flashing white-striped lights.
When Homer throws a bowling ball at the ground and someone cries in pain, it is a reference to Frank Grimes from the episode "Homer's Enemy", who lived under a bowling alley.
During UK airings on Channel 4, the entire scene featuring Homer's attempted suicide was edited out of the episode. Instead, the scene goes straight from Homer singing The End to Ron Howard driving up with his children.
Cultural references
Goofs
Homer is seen wearing his Pin Pals shirt when interrupting Pen & Teller, though in "Homer's Phobia" John is wearing Homer's Pin Pals shirt and states that someone (Marge) gave it to Goodwill. He could have gotten it back after he realized fame after the perfect game.
Ron Howard's children all appear to be younger than twelve, but in real life only his son was 12 years old at the time this episode aired.
When Homer is dragged by the rip tide he was shown to have no shoes on, however while he was "running" underwater, he is shown wearing shoes. When Maggie saves him, he is again shown underwater without shoes.
After Marge realizes that Homer lied to her about Lenny being injured, her butt is not behind the edge of the couch she is sitting on.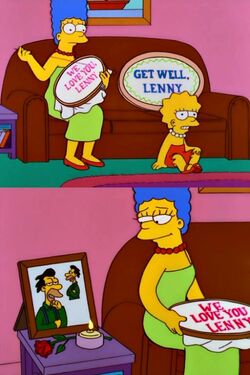 Community content is available under
CC-BY-SA
unless otherwise noted.