Trivia
The episode's title was unknown when season 17 was broadcast.
It's revealed that Jasper's last name is Beardley, there is a Jebediah Springfield IV alive, and Marge was born in February, which doesn't make much sence because in Kiss-Kiss Bang Bangalore she is stated to be born in May and in Marge Gamer she is stated to be born on October.
This is the first episode to air 2006.
The couch gag goes as follows: 2006—the Simpsons are sitting on the couch; 2007—the family is one year older; 2008—Homer is dead and the surviving members of the family are in funeral clothes; 2009—Lenny is married to Marge; 2010—Carl and Lenny are married and caring for the kids, who have gotten visibly older; 2011- Marge is back and married to Jimbo Jones. 2012—Homer is back and has become a robot; 2013—the entire family has become robots.
Grampa calls Mason Fairbanks Horatio Homewrecker which is a reference to the classic fictional British Naval Hero Horatio Hornblower.
"Piso mojado" ("The famed emeralds of Piso Mojado") is Spanish for "wet floor."
When Homer and Mason are under water they pass by Frankie the Squealer (who is sometimes alive and sometimes dead) wearing cement shoes.
The memories of Homer and Abe Simpson did before he passes out from lack of oxygen are:

Abe playfully holding up his keys in front of Homer while he was a kid, to which Homer eventually succeeds in taking, and Abe stating that he likes Homer, up until he notices that Homer used Abe's keys to use the car.
A teenage Homer drawing an (albeit crudely drawn) portrait of Abe Simpson, with Abe expressing joy.
Abe attending Homer's wedding with Marge and giving him his life savings in an envelope, only for an eagle to snatch away the money, to Abe's disappointment (though Homer and Marge got married at Shotgun Pete's Quickie Wedding Chapel and there was no one there other than Homer, Marge, and Shotgun Pete).
Cultural References
The episode references the film The Life Aquatic with Steve Zissou in that Homer thinks he found his biological father. In The Life Aquatic Ned Zissou experiences the same. Also the episode references the underwater exploration team that is in the film.
Goofs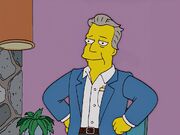 When Dr. Hibbert says "Homer's Biological Father is Mason Fairbanks", Mason stands up with a blue coat on and black jeans. Then Homer says "Who's Mason Fairbanks" and Dr. Hibbert points to Mason in his usual attire
Mason's lost letter to Mona is delivered to 742 Evergreen Terrace, but she would never have been registered as living at this address - especially in 1966 when the letter was sent. Possibly the postal service wouldve checked to see if a SImpson was living in Springfield and relay the letter to their location.
Pythons, along with all other species of snake, can't blink.
Broadcasting Information
USA/Canada
1st Airdate: Sunday, January 8, 2006
2nd Airdate: Sunday, April 30, 2006
3rd Airdate: Sunday, July 2, 2006
UK
1st Airdate: Sunday, February 12, 2006
2nd Airdate: Friday, February 17, 2006 (Encore Screening)
3rd Airdate: Friday, April 21, 2006
4th Airdate: Sunday, June 18, 2006
5th Airdate: Sunday, August 6, 2006
6th Airdate: Friday, August 25, 2006
Australia
1st Airdate: Tuesday, June 13, 2006
Community content is available under
CC-BY-SA
unless otherwise noted.