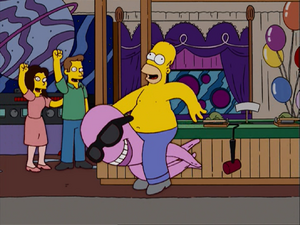 Homer's Victory Dance is performed by Homer in "Homer and Ned's Hail Mary Pass" which the world sees thanks to Comic Book Guy.
Lyrics
I'm number one! I bet my son! Victory is mine! So kiss my behind!
Boom-Chaka-Laka-boom! Boom In your face! Boom-Cha-Kuchaka-Wa My son flips frogs like a girl! Yeah!
Woohhoo! I am happy!
Community content is available under
CC-BY-SA
unless otherwise noted.