The Homer Simpson Dashboard Driver is a talking dashboard figure based on the character Homer Simpson made by Gemmy Industries in 2004. It features a figure of Homer screaming standing on a black circular pedestal. When activated by either pushing the button, or activating the sensor by movement of a vehicle, homer says many road rage comments.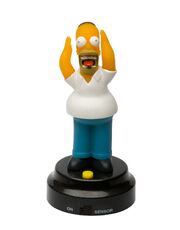 List of sayings
-"Why don't you come here and say that, huh? That's what I thought! Turn your walker around and hobble away, Granny!"
-"Oh, why do slow people have to be in front of me?"

-"Oh, why do fast people have to be behind me?"
-"Ah, nothing like a nice drive in the country to clear your head and sooth your...(Snores)...wha...I'm up! I'm up!"
-"Yeah, yeah, quit your waving! I'll move to the intersection when I'm good and ready, officer!"
-"Car turning into Krusty burger! Powerless...to...resist!"
-"Your child might be an honest student, buy you're a moron!"
-What is this? National stupid drivers day?"
-"Hey, watch it! You don't own the road!"
-"Red light turn green...now! Now! Right now! Okay, now! (gasp) It worked!"
Other models
Santa Homer- phrases
Underwear homer- phrases
Mr. Burns- phrases
Krusty- phrases and sings his version of Superfreak
fur coat Mr. Burns- phrases and sings For the love of money
Hula Homer- phrases and sings Tiny Bubbles
Community content is available under
CC-BY-SA
unless otherwise noted.