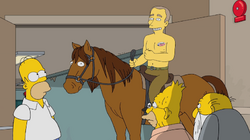 Homer Votes 2016 is a short about the 2016 presidential election released on the YouTube channel Animation on FOX aired on October 14, 2016.
Plot
Homer goes to Springfield Elementary School to vote. On the line, a guy tries to convince Homer to vote for Donald Trump but Homer refuses. The guy then says that Trump has plans to make Russia great again. Homer gets suspicious and attacks the guy, revealing that it is Vladimir Putin in disguise. He then votes but Grampa doesn't let Homer vote. Putin leaves on a horse saying that his hackers will get him in, and Trump is winning by 102%. The scene cuts to Russia, where a Kremlin is getting demolished for the building of a casino.
Videos
Community content is available under
CC-BY-SA
unless otherwise noted.