| | | |
| --- | --- | --- |
| | Homer and Lisa Exchange Cross Words | |
Premiere
The premiere of this episode was watched by 8.52 million people in America.
Cultural References
Farewell to You Baby by Carl Martin is played as Homer breaks up various couples.
Word Up by Cameo is played during Lisa's crossword competition.
Cherish by The Association is played after Homer wins Lisa back at the end of the episode.
The "words that have been removed" sequence references the sequence in award shows in which entertainers have passed away between last year's awards show and the one from this year.
The scene where Lisa helps the license clerk with a crossword is a reference to the pilot episode of The Big Bang Theory, where Leonard helps the high IQ sperm spark bank receptionist with a crossword.
Trivia
Known participants in the crossword competition are all surnames of existing characters - Lisa Simpson, Dr Julius Hibbert, Kirk Van Houten, Professor Frink, Database, Judge Roy Snyder, Hans Moleman, Elizabeth Hoover, Ruth Powers, Arnie Pye, Captain Horatio McAllister , Gil Gunderson And Stupid Ned Flanders.
As spoken, Homer's message to Lisa was, "Dear Lisa, you make me so happy. Really, really, really happy. Sorry, he told me I needed a hundred-and-forty-four letters. What was my point again? Oh, right. Bouvier or Simpson, I cherish you." For the record, this little speech has 147 letters, not 144.

Ironically, if Homer had said "I needed a hundred-forty-four letters." Taking away the "And." He would have exactly 144 letters.

Mathematically, the "and" shouldn't be in there anyway, as saying it in numbers actually means 100.44. (Which likely means they wrote it right in the crossword and Lisa just heard it in her head the way she knew her Dad would say it)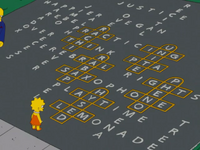 The words in Lisa's Hopscotch Crossword are: justice, happier, vegan, rebel, practicing, over, think, PTA, cerebral, rights, saxophone, playtime, lemonade, paradox, Jimbo, recess, Ralph, overachiever, recital, Krabappel, uniter, PhysEd, phenomena, and tree.

Words that have been removed from the dictionary in the past year: SKEDADDLE, NIXONIAN, ZOUNDS, MIMEOGRAPH, HOOTENANNY.
Just after Bart says "Speaking of San Francisco people mover--" the show cuts to Homer at gay club helping Grady break up. During this transition the following can be seen on the screen for a split second: Scene 151, Take 2, Akom and Film Roman Fix.
The scene where Homer is haunted in his sleep by the spirits of the couples that he broke up, along with the babies the couples would have had and antiques that the couples would have bought together was cut for time when reruns of this episode were shown in syndication.
Tim Long credited the 2006 documentary Wordplay, which chronicles the national crossword puzzle championships, as the main inspiration for this episode.
The last word in Homers apology crossword is Bart, also the word D'oh, Oh Hell and Morasses make appearances in that puzzle
Goofs
In order to win Gil tricked Lisa by telling her a sob story then dropping his fake glasses so he could complete the crossword while Lisa picked them up, however what Gil did was cheating, therefore he would have been disqualified and Lisa would win by default. (except that the tournament was "No Holds Barred" Lisa, "surely some holds are barred" Homer, "No None" Lisa, Therefore Gil's hustle was perfectly legal).
When Word Up by Cameo was playing whilst Lisa was winning the crosswords, she jumped on a trampoline to put the dot on the i, however, crosswords are done with capital letters so there would be no reason to put the dot.
Community content is available under
CC-BY-SA
unless otherwise noted.