"It's something very special: a homemade bat."
"Homer at the Bat" is the seventeenth episode of Season 3.
Synopsis
Mr. Burns bets $1,000,000 that his softball team can beat a competing plant's softball team. In order to do so, he replaced the regular softball team with professional baseball players. He gives them jobs at the plant so it wouldn't be legitimately cheating. Mr. Burns gets a new security guard (Roger Clemens), a new janitor (Wade Boggs), a lunchroom cashier (Ken Griffey, Jr.), and other new employees like Steve Sax, Don Mattingly, Ozzie Smith, Darryl Strawberry, José Canseco, and Mike Scioscia.
Full Story
The Springfield Nuclear Power Plant softball team has gone through their season undefeated, and in the championship game, they will face the Shelbyville Nuclear Power Plant. Homer is the team's leading hitter, thanks to his homemade Wonder Bat (a takeoff of the plot of the film The Natural).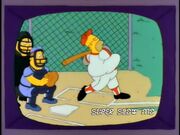 Mr. Burns makes a million dollar bet with
Aristotle Amadopolis
, owner of the Shelbyville plant, that his team will win. To secure victory in the game, Burns wants to hire major league stars, but Smithers tells Burns that the players he picked are all dead (they were alternately active from 1857–1937). Thus, Burns orders Smithers to locate some current superstar players and hires several Major League Baseball players to work at the plant (Roger Clemens, Wade Boggs, Ken Griffey, Jr., Steve Sax, Ozzie Smith, José Canseco, Don Mattingly, Darryl Strawberry and Mike Scioscia) and to play on the team, much to the dismay of the plant workers who got the team to the championship game in the first place.
However, the night before the game, all the players but Strawberry have different incidents that don't allow them to play. For example, Steve Sax has been thrown in jail due to Eddie and Lou accusing him of murder. Because of this, Burns must use actual employees, but keeps Homer on the bench because Strawberry plays his position. Homer does get in, though, with the score tied and bases loaded in the ninth inning, when Burns wants a right-handed hitter against a left-handed pitcher. The very first pitch hits Homer in the head, rendering him unconscious and forcing in the winning run. Homer is then paraded as a hero, still unconscious. A photo shows all of the baseball players including the ones who could not play in the final game, thus finishing the episode.
During the credits, Terry Cashman, who wrote the song "Talkin' Baseball", sings a take on his hit, "Talkin' Softball".
Videos
Citations