Trivia
A poster in Flanders' rumpus room reads: Seven days without a drink makes me weak.
Pictures of Fat Tony and Ms. Botz (the babysitter bandit) can be seen at Springfield Police Station.
Kwik-E-Mart's street number is shown to be 4950.
There is an "El Barto" graffiti tag on the police station's wall.
The items that Molloy stole from the Simpsons were: Lisa's saxophone, Bart's portable TV and stamp collection and Marge's necklace.
This is the first episode to air in 1994.
The improvised uniforms Homer's vigilantes are wearing are:

Homer: A Jungle Explorer's outfit from the Victorian era.
Skinner: A Green Beret uniform.
Apu: An Indian Army uniform based on styles from the 1800s.
Barney: A fast food-based uniform
Moe: A Boy Scouts uniform, topped with a Kaiser German helmet.
References
The race scene at the end of the episode parodies It's a Mad, Mad, Mad, Mad World, numerous characters from the movie appear, including Phil Silvers, whom Bart tricks into driving his car into a river.
Homer imagines himself riding the bomb, in a parody of Dr. Strangelove.
The music during the cat burglary at the start is similar to music from The Pink Panther or from Henry Mancini.
Molloy is based on David Niven's character A. J. Raffles from the film Raffles.
The opening scene parodies the opening scene of the film To Catch a Thief.
Goofs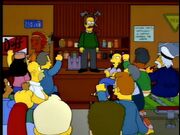 When Nelson calls on the phone to harass Bart about his stamp collection, the closed-captions miscredit the line to Milhouse.
When Homer is on the news talk show he puts his hand on his chest and the opening of his shirt appears over the back of his hand.
Homer's lips don't move when he says, "No burning leaves without a permit!"
Community content is available under
CC-BY-SA
unless otherwise noted.