| | | |
| --- | --- | --- |
| | How I Spent My Strummer Vacation | |
Cultural references
The title of this episode is a reference to "How I Spent My Summer Vacation". It's also a possible reference to Joe Strummer, frontman of The Clash, who would die roughly a month after this episode aired.
When Mick Jagger tells Homer "It's only rock and roll" to help cheer him up. Homer replies with "But I like it" referencing the Rolling Stones' song "It's Only Rock 'n' Roll (But I Like It)".
When Brian Setzer was teaching guitar basics, he said they would learn how to set a guitar on fire and play with their teeth. This is a reference to Jimi Hendrix burning his guitar at the Monterey Pop Festival, and famously playing his guitar with his teeth.
Goofs
When Disco Stu confesses in the car, for a frame the white and purple on the left of his jacket switch places with each other.
When Elvis Costello takes Homer's guitar and drives back to get the pick, the guitar changes color from red to a mustard sort of color.
When the Rolling Stones are on the stage talking about the camp, they knew Otto's name even though they never met him before. This could simply be a reference to the popularity of the show's characters, including background and recurring.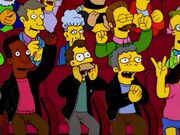 After Homer and his gang get their instruments (all guitars)... and started singing, Homer's guitar changes form and color.
When the guitar crashes through Mick Jagger's window and messes up his desk, a stack of papers on the desk disappears for a frame.
When the audience of the final concert is shown, Lenny's hair is lighter brown than it is supposed to be in one scene.
Trivia
The Rolling Stones welcomes everyone to Rock 'n' Roll Camp by playing the opening chords of their song "Start Me Up."
When everyone is getting told that they can't all play guitar and are told that someone could play bass instead, Homer jumps over the counter and gives guitars to everyone, including the bass nobody wanted before.
Production-wise, this is the last episode to use the hand-painted cel animation method. However, in terms of airdate, three more cel animated episodes would be shown: Bart vs. Lisa vs. the Third Grade, Large Marge, and Helter Shelter.
The Gracie Sound is Mick Jagger shouting "Simpsoooon!"
As the end credits roll, behind the scenes of the rock stars recording their voices are shown.
Mike Scully showruns this episode instead of Al Jean.
Clips from this episode are used in commercials for the real-life Rock and Roll Fantasy Camp.
Community content is available under
CC-BY-SA
unless otherwise noted.