Trivia
This is the second time that a character discovers having a blemish and upon telling it "Not on my day you don't!" it instantly recedes/recovers (in this case, Homer being hit with a falling flower pot and receiving a bruised bump on his head). The first is when Marge discovered that she had a zit on her lip while preparing for her "third" remarriage (actually second, as Reverend Lovejoy's remarrying Marge and Homer didn't count as his ministering license had expired during that time) in the episode Wedding for Disaster.
This is the second episode where a Simpson rides on a garbage barge. The first being Homer the Heretic.
Cultural references
When Bart, Nelson, Jimbo, Kearney, Dolph, and Ralph go to the "helicopter", Gonna Fly Now, the theme from Rocky, plays.
There is also a Kid vs. Kat episode called How the Test Was Won. However, this is probably a coincidence, since the title card shows that it is probably based on the movie How the West was Won or on the album of the same name by Led Zeppelin.
Skinner running in circles on the container to make it turn is an example of the Conservation of angular momentum.
Footloose plays when The principals and the kids begin to dance.
At the beginning of the school year, the Welcome Back banner announces that MISS CALDECOTT IS NOW MR. NEWBERY. These are names of longstanding awards given out for children's books.
Oddly, Homer had a flashback from Treehouse of Horror XIII. However, he could have been exaggerating about lots of Homers falling off the cliff.
Homer's premonition of the massive accident in his house (aside from Marge Simpson and Lindsay Naegle making out) is similar to the premonitions seen in the Final Destination franchise.
During this episode (at the beginning) Homer remembers most of the times he got injured.
The episodes he remembers are as follows:
Goofs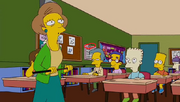 Despite taking place in September, the calendar in Ms. Krabappel's reads April. However, due to Edna's lack of interest in her job this is common for her to neglect her calendar. This goof also occurs in "Lard of the Dance."
When Skinner and the kids watch that a thief steals the bus parts, Otto is on the disambled bus. But in the next shot, he is among the kids.
When Maggie's toy cannon launches the knife, Mr. Burns doesn't have a scratch when the knife lands on him.
Community content is available under
CC-BY-SA
unless otherwise noted.