Huffenpuffilus is a green elephant Homer imagines at Moe's.
Biography
Huffenpuffilus is only seen in one episode of the Simpsons when Stradivarius Cain comes to Homer as an imaginary friend to help him with his marriage. Pinky sees Cain hiding behind a pool table when he enters Moe's tavern with Lenny. Huffenpuffilus then asks him if he's still angry because he slept with his girlfriend. Later on in the show you see Cain shot randomly into a bush and then he reveals he has shot Huffenpuffilus and his last words are "I knew you were still mad".
Appearances

Episode – "The Spy Who Learned Me"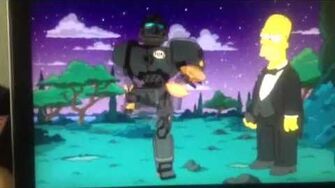 Community content is available under
CC-BY-SA
unless otherwise noted.