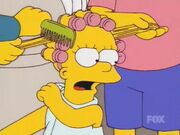 I am Their Queen is a song sung by Lisa Simpson, the teachers and the staff at Springfield Elementary School in "The President Wore Pearls". In the song, the staff give Lisa a make over, using her vanity to distract her from her work as a newly elected class president. The song is a parody of "Rainbow High" from the Andrew Lloyd Webber musical Evita which the entire episode references throughout. The episode was nominated for an Emmy for Outstanding Music (by Alf Clausen) And Lyrics (by Dana Gould).
Lyrics
Lisa:
What would you change?

Teachers:
Eyes! Pearls! Smile! Hair points!
Dress! Poise! Shoes! Swatch watch!

Lisa:
I may be the new girl
But you can't brain wash me
Just OshKosh B'Gosh me
And then leave me be
To fight for kid power
I must be heard not seen!
I have to lead wisely
Not just pimp and preen

Teachers:
Nails! Dimples! Ears! Scrunchie!
Purse! Lunchbox! Teeth! Milhouse!

Lisa:
This cutting up suits me
There's beauty within me
So let's Olsen twin me
Give them someone to love
This grown up make over
Has made me a super tween
For they are my people
And I am their queen!
Cast
Besides Lisa, the following employees of the Springfield school district perform:
Community content is available under
CC-BY-SA
unless otherwise noted.