Trivia
On the day of this episode's premiere, the Soviet Union officially dissolved.
Homer is correct about the dark horse candidacy of John Anderson in 1980. However, his comment about the hits of Supertramp is slightly off, as 1980 marked as only the beginning of the decline in the group. 1982 was the big fall for the group. To give the episode flavor about Homer's youth and the timeframe, the band's famous song, The Logical Song is playing when the flashback begins and Homer is seen working at Sir Putt a Lot's Miniature Golf Course. The Logical Song was composed in 1978, and released in June 1979, not 1980, but still retained popularity in 1980 due to Supertramp's tour for their best selling album, Breakfast in America, which was going on in 1980, and the last singles off of the 1979 Breakfast in America album were released in 1980.
The people waiting in line's annoyed reactions to Homer's obliviously spoiling the major plot twist regarding Vader being Luke Skywalker's father was a reference to the fact that the plot twist was kept under strict secrecy during development of the film.
When Homer is seen working at various short-lived jobs to find the right one to finance his married life, most of them are accompanied Dolly Parton's hit song 9 to 5.
Marge's hair is not as tall in this episode as it normally is shown. Presumably her hair is shorter so there is less to wear in her famous updo.
This has been the only episode so far where Jacqueline Bouvier has smoked. It is very likely she has quit smoking.
The eye pupils are much bigger than they usually are. 
This is the last episode to air in 1991.  
Homer going door-to-door selling knives were a reference to Cutco, which manufactured a brand of kitchen knives which got sold by mail order. Most sales were made by young people looking to gain experience.
This episode aired on December 26, 1991 (during the Christmas period), making it only one of two original episodes to air during the Christmas timeframe that was not a rerun nor a Christmas-themed special.
After Homer takes the job of safety inspector, Mr. Burns says he will "remember that name," but a running gag has always been his remark of "Simpson, eh?" when told about Homer. This could foreshadow a familiar situation in Who Shot Mr. Burns, when the forgetfulness reached a boiling point and Burns repeatedly said the name "Homer Simpson".
This episode is the first one to detail the events around a Simpson child's birth (this describes Bart's). The second one is Lisa's First Word, and the final one is And Maggie Makes Three. This is also the only one not to feature the baby's birth name in the title.
Homer with his hair and suit looks similar to Herbert Powell.
It was revealed in this episode that Homer impregnated Marge before they got married.
Homer's resume additions
This episode marked several additions to Homer's resume.
Springfield Miniature Golf Course: Groundskeeper (Quit due to insufficient salary)
Ye Olde Springfield Village: Candlemaker (Fired for substandard performance)
Slash-Co Knives: Door-to-door salesman (Presumed fired for slashing an old lady's hand)
Pitiless Pup Attack Dog School: Dog trainer (Quit after finding work too hazardous)
Million$ for Nothing Ponzi Scam: Ground-level participant (Organization dissolved when founder fled seminar; having been wanted by the police)
Gulp & Blow Tacos: Service trainee (Quit in order to make another application attempt to the Springfield Nuclear Power Plant)
Cultural References
Mr Burns is seen playing a Ms. Pac Man machine in his cabinet.
Goofs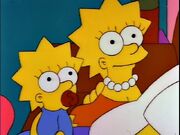 At the end of the episode, when Homer tells the kids what a blessing they are, Maggie's bow is missing in one shot.
When Homer and Marge are leaving the theater after seeing the Empire Strikes Back, the Imperial March (Darth Vader's theme music) can be heard playing. While it played for much of the film, a reprise was heard near the end of the credits.
Much of the events of Homer trying to find a job for Marge is retconned by the episode "3 Scenes Plus a Tag from a Marriage", which shows Homer having not only a financially secured job at Flashmouth (a teeth whitening company), but baby Bart directly got him fired. It is possible that the episode is actually non-canon, and the events of "I Married Marge" are canonical to the Simpsons life-timeline.
Community content is available under
CC-BY-SA
unless otherwise noted.