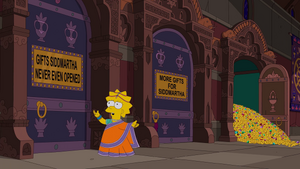 I Want Less is a song performed by Sidmartha (Lisa) in "My Way or the Highway to Heaven"
Lyrics
I live a life of great excess,
And yet I find no happiness.
There's more to life than this, I hope.
Than golden tubs and fragrant soap.
All kind of stuff, and yet, I mope.
I want less.
Don't want to grab life by the horns.
Don't want to grab that brass ring.
Hear me shout and hear me sing.
All I want is just one thing.
I want less, I want less.
Less, less, less.
I want more of Less.
Less.
Community content is available under
CC-BY-SA
unless otherwise noted.