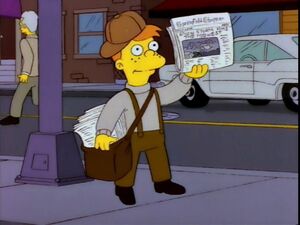 I am Just a Simple Paper Boy is a song from the musical Oh, Streetcar! in the episode "A Streetcar Named Marge"
Lyrics
:
Apu:

I'm collecting for The Evening Star.

Marge:

Come here, I wanna kiss you just once, softly and sweetly on your mouth.

Apu:

I am just a simple paper boy,

No romance do I seek.

I just wanted forty cents

For my deliveries last week.

Will this bewitching floozy

Seduce this humble newsie?

Oh, what's a paper boy to...do?

(she kisses him)

Woo-hoo!

Community content is available under
CC-BY-SA
unless otherwise noted.