If Ever I Would Leave You is a song from the musical Camelot. It was performed by Ralph in Marge vs. Singles, Seniors, Childless Couples and Teens and Gays and by Homer and Dr. Hibbert in The Homer of Seville.
Ralph Wiggum version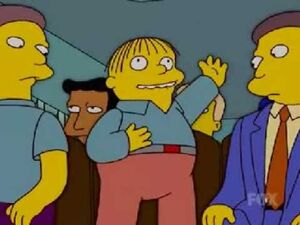 If ever I leave you, it wouldn't be in summer!
(audience boos)
Homer Simpson version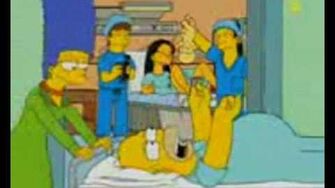 If ever I would leave you, it wouldn't be in summer
Seeing you in summer, I never would go
Your hair streaked with sunlight, your lips red as flame
Your face with a luster that puts gold to shame
But if I'd ever leave you, how could it be in autumn
How I'd leave in autumn, I never will know I've seen how you sparkle when fall nips the air I know you in autumn and I must be there
And could I leave you running merrily through the snow
Or on a wintry evening when you catch the fire's glow?
If ever I would leave you, how could it be in springtime?
Knowing how in spring I'm bewitched by you so
Oh, no, not in springtime, summer, winter, or fall
No, never could I leave you at all