Even though The Simpsons primarily maintains the status quo, throughout the run of the series, several characters, both recurring and one-time, have died. Additionally, multiple characters have been jokingly killed off during the Treehouse of Horror episodes.
Deaths during the series
Before Season 1
Uncle Hubert, died in the The Tracey Ullman Show shorts episode "The Funeral".
Clancy Bouvier, in "Jazzy and the Pussycats" Marge says that he died shortly after she married Homer.
Snowball I, died after being hit by a car, being driven by Clovis Quimby. The death is first mentioned in "Simpsons Roasting on an Open Fire" with Clovis Quimby being mentioned as the killer in "Treehouse of Horror III".
Great-Grampa Simpson, seen in Heaven by Bart in "Bart Gets Hit by a Car".
Milton "Ox" Haas, died from a hernia while carrying the crate of stolen Nazi paintings out of the German castle.
Sheldon Skinner, Arnie Gumble, Iggy Wiggum, Etch Westgrin and Giff McDonald, killed during the 1979 Veterans Day float disaster.
C.W. McAllister, died on the Murderhorn mountain in 1928, presumably from hypothermia. Abraham Simpson has taken a bite out of his arm. His body was only found in "King of the Hill".
Waylon Smithers, Sr., died of radiation poisoning. When he was younger Homer Simpson dicovered his body, presumably a while after his death as it had quite substaintually decayed. Homer had flashbacks of the event when he was hypnotised in "The Blunder Years". Mr. Burns later showed the Simpson family, as well as Chief Wiggum and Waylon Smither Jr., the footage of his death. Showing that he had died saving Springfield.
Beatrice Simmons, died of a burst ventricle "Old Money", although Abraham Simpson says that it was actually a "broken heart", after he was unable to attend her birthday party .
Bleeding Gums Murphy, died in hospital from illness in "'Round Springfield".
SuperDude, the school gerbil, crushed by his water bottle in "Who Shot Mr. Burns? (Part One)".
Dr. Marvin Monroe, It is unknown whether Marvin Monroe is actually dead. In "Who Shot Mr. Burns? (Part Two)", the hospital Burns attends is called The Marvin Monroe Memorial Hospital, and since that, his gravestone has been seen. Most prominently, in The Simpsons 138th Episode Spectacular one of the trivia questions asked was "Which two popular characters have died in the past year?" With the answer being, "If you said Bleeding Gums Murphy and Dr. Marvin Monroe you were wrong, they were never popular," indicating he is dead. However, Marvin Monroe re-appeared ten years later in the episode "Diatribe of a Mad Housewife", saying that he has been "very sick". If his death had taken place, it is estimated to have happened some time during Season Six.
The Krusty Burglar or rather, his actor, Killed by Homer Simpson (while acting as Krusty the Clown) when he believed him to actually be stealing the burgers during a promotion of the new Krusty Burger (the one with Ketchup), thus resulting in the kids (and the announcer) being left mortified (it's hard to tell if he was killed or just simply KOed, but one of the kid's cries of "stop, sto-oo-op, he's already de-eaa-aad!" indicates that Homer's beatdown killed him, but this is false, as the Krusty Burglar spoke after the kid pleaded Homer to stop.)
Candy Convention attendees, were presumably caught in the explosion caused by Homer's Pop Rocks/soda grenade that destroyed the candy convention center.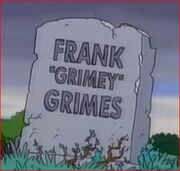 Mr. Pinchy, Homer Simpson's pet lobster, was accidentally cooked to death when the bath water he was in was too hot. An extremely upset Homer ate Mr. Pinchy later at dinner in "Lisa Gets an "A"".
Red Barclay, died in "Maximum Homerdrive" after a beef-eating contest. Dr. Hibbert, a partner of the stakehouse, says he died of beef poisoning, although it was "probably from some other restaurant".
Mother bird, Bart Simpson accidentally shots the bird with Nelson Muntz's BB gun. The gun had a crocked sight, which meant that despite the fact that Bart was aiming away from the bird, he still killed it. Bart had to look after her eggs, in "Bart the Mother".
Maude Flanders, died in "Alone Again, Natura-Diddily" when she was knocked off a racetrack grandstand by t-shirts shot from cannons. [1]. She was killed off due to problems with her voice actress Maggie Roswell. Maude's death is considered to be the most show-changing death, and affected Ned Flanders in several episodes after the incident.
Cornelius Chapman, the only man in Springfield older than Mr. Burns (at 108 years old). He died onstage from a heart attack after a kiss on the cheek from Britney Spears. Fittingly enough, he was receiving an award for Springfield's Oldest Man in "The Mansion Family".
The Laramie Cigarette Team died when the helicopter exploded at the hands of a Tomacco adicted sheep (who was the only survivor.)
Man having operation, died when a tennis ball landed in his open chest in "Tennis the Menace", after Dr. Hibbert decided to operate on him outside.
Professor at Swigmore University, was dying of cancer, in "Homer the Moe" he kills himself by walking in to a lake. He later appears as a ghost.
Lawyer, died, when Homer drove over him in My Mother The Carjacker.
Man In Grave, a man who was buried alive by Gravedigger Billy in "The Girl Who Slept Too Little".
Fred Knickey, Chief Wiggum's brother-in-law who was given euthanasia.
The Callibricis, the rival gang of Fat Tony's, died of food poisoning.
The Callibricis' Goons, died in a car explosion.
Amber Simpson, Homer's Vegas wife died of an overdose whilst in front of a "Do not stand up on the rollercoaster" sign.
Max, an ice cream truck driver. Died whilst giving Homer change for a $100.
Diver, drowned, when Nelson stole his equipment.
An unnamed man, crushed by the dome as it was being installed over Springfield.
Dr. Nick Riviera, killed by a falling shard of glass. He later returns, alive and well, in the season 20 episode "Lost Verizon".
Green Day, died when the boat they were playing on flipped over. The Springfield residents later pray for them in church.
Treehouse of Horror deaths
Note: Treehouse of Horror deaths are kept separate due to the nature of Treehouse of Horror episodes. Treehouse of Horror episodes aren't continuous with the rest of the series, giving the writers the possibility of killing off important characters without having to create a replacement or write them out of the series (e.g. in Treehouse of Horror XV, Homer obliterates Springfield, but the series continues on.)
Lenore, referred to as "Lost Lenore" in "The Raven" segment.
Lenny Leonard, eaten by King Homer.
Waylon Smithers, eaten by King Homer.
Shirley Temple, eaten by King Homer.
Journalist, crushed by King Homer.
Clancy Bouvier, eaten by King Homer.
Numerous zombies (Ned Flanders, Albert Einstein, William Shakespeare, Edna Krabapel, and George Washington to name a few), killed mainly by Homer when zombies attack Springfield.
Groundskeeper Willie, burnt to death after Homer Simpson turned the heating up to high. However, he showed up just fine at the end of the episode, getting off a bus. He attempted to scare Bart, Lisa, and Maggie, but was last seen chasing the bus he got off of because he had forgotten he left his gun on the seat.
Martin Prince, strangled to death by Willie.
Kent Brockman, killed by a billboard version of himself when it came to life, although he is seen alive later on in the same segment.
Otto Mann and a school bus of students, killed by a billboard of the Devil come to life.
Captain of the High School Basketball team, shot by Chief Wiggum who thought he was a monster.
Homer Simpson, although he didn't technically die, he was trapped in a different dimension so in the Simpson's world he would be listed as dead.
FOX Censor, stabbed to death.
All of Springfield except Homer, Marge, Bart, Lisa and Maggie Simpson, killed by a nuclear neutron bomb. Others including, Lenny, Carl, Sideshow Mel, Mr. Burns, Dr. Hibbert, Ned Flanders, Chief Wiggum, Apu Nahasapeemapetilon, Waylon Smithers, Principal Skinner, Moe Szyslak, Groundskeeper Willie, and the Sea Captain were all mutated and later killed by the Simpsons.
Johnny and Edgar Winter, run over by Homer, who mistook them for mutants.
Agnes Skinner, Miss Hoover, and Luann Van Houten, burned alive.
Homer Simpson, hit by Marge Simpson's car.
Lisa Simpson, crashed into a wall on her bike.
Bart Simpson, accident on his skateboard.
Snake Jailbird, electrocuted in an electric chair.
Apu Nahasapeemapetilon, drowned in a Squishee machine by Homer Simpson, who was being controlled by Snake Jailbird's hair.
Moe Szyslak, Homer Simpson (who was being controlled by Snake Jailbird's hair) pulled his heart out with a corkscrew.
Jerry Springer, suffocated by Kang's tentacle, he was also possibly killed from a venomous bite of the alien/human hybrid Maggie Simpson.
Audience of the Jerry Springer show, zapped by laser gun.
Poochie, hit by a car. However Poochie grunted after the impact.
Lisa Simpson, disintegrated by an alien Maggie from Treehouse of Horror IX.
Ned Flanders, hit by a car. However, he reappeared as a zombie werewolf, so now he is undead.
Comic Book Guy as The Collector, killed by Lucite.
Homer Simpson, blown up after escaping the spaceship going into the sun, died because of no oxygen in space.
Bart Simpson, blown up after escaping the spaceship going into the sun, died because of no oxygen in space.
Celebrities on doomed spaceship, died when their spaceship flew into the sun.
Most people on earth, killed while all of the world's machines go haywire.
Homer Simpson, killed by an angry mob.
Bart Simpson, killed by an angry mob.
Marge Simpson, killed by an angry mob.
Abraham Simpson, killed by an angry mob.
Homer Simpson, choked to death on a piece of broccoli, twice.
Agnes Skinner, dropped to her death by Ghost Homer when he tries to do a good deed.
Simpson children, Bart and Lisa see their siblings skeletons.
Goldilocks, mauled by Daddy Bear, Mummy Bear and Baby Bear.
Suzanne the witch, burnt to death.
Lenny Leonard, killed by dolphins.
Captain McCallister, killed by dolphins.
Squeaky Voiced Teen, killed by dolphins.
Kent Brockman, killed by dolphins.
Staff Worker, killed by dolphins.
Abraham Simpson, eaten by a dolphin, though a deleted scene shows him bursting out of the dolphin and joining in Springfield's battle against the dolphins.
Groundskeeper Willie, killed by dolphins.
Krusty the Clown, killed by dolphins.
Many other citizens of Springfield, killed by dolphins.
Homer clone, electrocuted.
Ned Flanders, decapitated with a chainsaw by Homer clone.
Homer clones, killed by Homer.
Gil, killed by Homer clones, although he was still moving and speaking.
Homer clones, fall off a cliff.
Homer Simpson, falls off a cliff.
Zombies, shot.
Future Homer Simpson, shot by Moe.
Professor Frink, eaten after being turned into a turkey.
Abraham Simpson, burned to death(though he just sits there complaining that he's still cold).
Homer Simpson, shot.
Grim Reaper, murdered by Homer with a bowling ball.
Homeless Guy, killed by Homer the Grim Reaper.
Jasper, killed by Homer the Grim Reaper.
Thirteen men (including Kirk Van Houten, Reverend Lovejoy and Hans Moleman) and three women (including the Queen), killed during a ball game (all by Homer, except the Queen).
Patty Bouvier, killed by Homer.
Ned Flanders, killed by Professor John Frink Sr after he rips out his heart.
Seymour Skinner, killed by Professor John Frink Sr. after he rips out his spine.
Many scientists, killed by Professor John Frink Sr.
Professor John Frink Sr., died form a calculated kick to the groin from Professor John Frink Jr.
Martin Prince, died, or was seriously injured while being attacked by the angry mob.
The Simpson family (except for Bart), cooked by Kang and Kodos.
Dr. Hibbert, falls out of a window.
Hans Moleman, dropped down a sewer and devoured by crocodiles.
Homer Simpson, shot by Ned thrice.
All of Springfield, killed by Homer when he pressed the "Core Destruct" button as he fell down dead.
Prostitute, killed by Clancy Wiggum.
Ned, Todd and Rod Flanders, their heads hang in Comic Book Guy's shop.
Comic Book Guy, killed by Clancy Wiggum.
Selma Bouvier, killed by Clancy Wiggum.

It should be noted that the last four deaths technically did not occur, as they were all part of Ralph Wiggum's dream.
David, sliced in half by Bart.
All adult males (with the exception of Homer), shot by Mr. Burns (note: Moe was not killed by Mr. Burns, he was impaled by a weather vane and Clancy Wiggum was also impaled; also, Professor Frink was eaten by Homer, not killed by Mr. Burns).
Disco Stu, arrow through the head. (a la Steve Martin)
Mayor Quimby, eaten by dogs.
Martin Prince, sprayed by Groundskeeper Willie.
Abraham Simpson, It is unclear as to whether he is killed or not, but it is likely he would be listed as dead after Dr. Hibbert (who had became a vampire) flew off into the night with him. Abraham said "That's it, suck out the poison...Wait a minute...Ahhhhh!" Implying that he had either been turned into a vampire (Which would technically make him undead) or had been killed due to blood loss.
Moe Szyslak, killed by an iron maiden.
Snowball II (Snowball V), eaten by Homer Simpson.
Squeaky Voiced Teen, eaten by Homer.
Üter, eaten by Homer.
German People at Oktoberfest, eaten by Homer.
Fat Tony, eaten by Homer.
Comic Book Guy, eaten by Homer.
People in Umpire School, eaten by Homer.
People from "The Facts of Life Reunion Tour", eaten by Homer.
Guys in Hawaiian shirt store, eaten by Homer.
People on a bus, eaten by Homer.
Ned Flanders, had his head bitten off by Homer.
Doctor Phil McGraw, eaten by Homer.
Homeless People, eaten by Homer.
17th Century People, shot by the Golem of Prague in a flashback.
Audience members at Krusty's stand up show, shot by the Golem of Prague.
Principal Skinner, sliced in half by the Golem of Prague. (However, he still moved before being put in a bag, but he is listed by Chief Wiggum as dead, so he is probably killed by the Golem.)
Lenny Leonard, shot by Homer Simpson, who thought he was an alien.
Disco Stu, shot by Homer, who thought he was an alien.
Captain McAllister, killed by Homer.
Clancy Wiggum, sucked dry by Kang and Kodos's spaceship.
Most Springfieldians, killed in Kang and Kodos' invasion.
Lou, Killed when he walked into the lake to get Chief Wiggum's sweater.
Three soldiers, killed by Kodos.
Kent Brockman, assassinated by Marge.
Five men and Captain MacAllister, accidentally shot by Homer.
Grampa, accidentally killed by Homer as he tries to kill Marge.
Chief Wiggum, killed by Marge.
Principal Skinner, killed by Marge and Homer.
Groundskeeper Willie, killed by his killer tractor.
Dr. Hibbert, run down by a van.
Homer, killed when he is filtered through his own hammock.
Homer, killed by voting booth.
Grandpa Simpson, possibly died after passing out in the Simpson's front yard.
People On Plane, coughed out by Plane Robot onto runway.
Various People Throughout Springfield, probably killed during robot battle.
Krusty the Clown, shredded by a woodchipper.
George Clooney, Prince, Neil Armstrong, and other celebrities, Killed by Homer (George Clooney fell in quicksand, prince was strangled with his guitar by Homer, and Neil was hit and became unconscious from a flying golf club).
Several People at Party, Shot at by deceased stars that came down from heaven.
Chief Wiggum, shot by the deceased Edward G. Robinson.
Homer, shot by the deceased Krusty the Clown.
Principal Skinner, killed by Grand Pumpkin.
Grand Pumpkin, killed by Tom Turkey.
Several Students at the Party, eaten by Tom Turkey.
Professor John Frink, killed himself by a DVR remote.
Chief Wiggum, squashed by a giant Knight piece.
Milhouse Van Houten, drowned and later, hung by the Hangman
Rod and Todd Flanders, squashed in a tumbling block game.
Cards, killed by Bart
Bart, hung
Seagull, poisoned
Shark, Squid and other sea life, killed by fuel from the Rent a Dream.
Roger, harpooned
Albatross crew, various - anchor, flare gun, blunt weapon
Pelican - Marlin
Ned Flanders - cooked
Big Bird - killed by Count von Count
Homer - when a bat, could not fly
Count Dracula and Edmund (possibly) - Homer's blood.