The Iron Maiden Fitness Pageant was the women's bodybuilding finals that Marge Simpson competed in. It was held at the Springfield Convention Center.
The Contest
The contest begins with a full audience and the emcee introducing the iron maiden contestants on stage. Bart expresses that "he's off women forever." The contest begins with the unnamed female bodybuilder coming on stage wearing a pink dress, white gloves, and white high heels. She picks up a piano, drops it, and declares "support the arts" to the audience. The audience claps and cheers.
Next competitor up is Marge Simpson who is seen in a red bikini and is pulling a Hollywood tourist bus with Seymour Skinner and his mom on it by her teeth on a leash. Agnes replies to Seymour that "this is the cheapest vacation you've ever taken me on."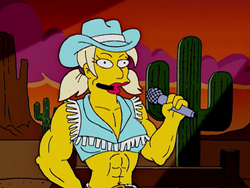 After Marge, an unnamed female bodybuilder is on stage dressed up as a cowgirl singing the song (The Man Who Shot) Liberty Valance by Gene Pitney. While singing she heads toward the front of the audience and pats Professor Frink on the head.
Results
Afterwords, Marge and nine other female bodybuilders are seen on stage together holding hands. The emcee declares Marge Simpson the second place winner and she receives the trophy for second place. The audience claps and cheers for Marge, but Bart commented that this will only encourage her, while Lisa commented that she's tired of her criticizing her glutes. Homer chimed that Marge's muscular ears can hear them, which she does and groans.
Behind the Laughter
There are three female bodybuilding competitions that use the name Iron Maiden: NBBF Holland Iron Maiden, NPC Ironmaiden, and SPA Ironmaiden.
During the announcement of the winner of a female bodybuilding competition it is customary for the finale two competitors to hold hands with each other till the winner is declared.
Appearances