Wiki Targeted (Entertainment)
Play Sound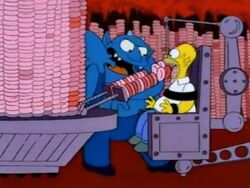 The Ironic Punishment Division is a division of Hell Labs, designed to punish sinners based on the sins they committed.
Homer, who sold his soul to the Devil for a donut (and was gluttonous), spends a day in Hell while awaiting trial for his soul. In the Ironic Punishment Division, he is tortured by a Blue Demon who proclaims, "So, you like donuts, eh? Well, have all the donuts in the world!" With that, a machine starts cramming thousands of doughnuts into Homer's mouth. He eagerly devours them.
Later, the machine is running out of donuts and Homer still hasn't had enough: "More." "I don't understand it," the demon says, "James Coco went mad in fifteen minutes."
Trivia
In 2004,

McFarlane Toys

released a playset modelled after this scene.[1]
The scene is based on the 1937 Warner Bros. cartoon "Pigs is Pigs" in which the main character, Piggy Hamhock is force-fed soup, bananas, olives, ice cream, pies, and a giant sandwich.
Something similar is done in Futurama: Bender goes to Hell after joining Robotology and breaking the rules. He is then forced to endure a number of ironic punishments.
Appearances
Citations