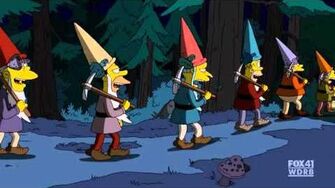 It's Time is a song sung by the Seven Dwarfs in the episode Four Great Women and a Manicure. It is essentially a reprise of the song Off to Work. The music was written by Alf Clausen and the lyrics by Valentina L. Garza.
Lyrics
The Seven Dwarfs:
Ho hi, ho hi,
It's time to now get high.
We'll take some 'shrooms and go to our rooms.
(all inhale)