Jurassic World: Dominion Dominates Fandom Wikis - The Loop
Play Sound
| | | |
| --- | --- | --- |
| | It's a Mad, Mad, Mad, Mad Marge | |
"I've been so unfair to Becky. Maybe I am insane. I mean, I am talking to myself."
"You are? Oh, I thought I made a friend."
"It's a Mad, Mad, Mad, Mad Marge" is the twenty-first episode of Season 11.
Synopsis
When Marge forces Otto to choose between rock 'n' roll and his bride-to-be, Marge quickly finds herself playing hostess to a now-single Becky. But when Becky's attempt to earn her keep upstages Marge's own homemaking abilities, Marge quickly finds herself losing her mind.
Full Story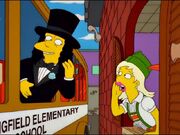 The episode begins with Principal Skinner announcing that as part of an expensive new school program, each student in Bart's class will be given a video camera to make a movie. Bart immediately begins trying to think of a good idea for his.
On the way home from school that afternoon, Otto drives the School Bus to the drive-thru of the fast-food chain where his girlfriend Becky works. He proposes to her, and she accepts.
Back at the Simpson house, Marge is upset to learn that Bart told Otto he could hold his wedding at their home, though as Bart points out, their backyard is still filled with leftover stuff from Apu's wedding.
On the wedding day, Becky privately confesses to Marge that she doesn't like heavy metal music, and is worried this will cause tension in her marriage. Marge brushes it off, until sees that Otto has hired a loud Poison tribute band named Cyanide to play her down the isle. Taking Marge's advice, Becky gives Otto an ultimatum; either herself or heavy metal. The wedding is immediately called off, the guests give the wedding gifts back, and Otto departs with the band in the School Bus.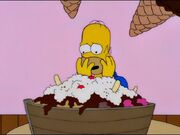 Due to Marge's guilt over ruining yet another wedding through her meddling, Becky is allowed to stay with the Simpsons for a while. The family grows to like the new girl, who is friendly and interested in everyone, though having another woman in the house starts to make Marge jealous and suspicious. 
While driving to the grocery store one day, Marge's brakes fail and she is nearly killed in the ensuing traffic chaos she causes. The incident makes Marge full-on paranoid, believing Becky is trying to kill her and seduce Homer. She goes to the police, but a predictably lazy Chief Wiggum is unwilling to help her.
Meanwhile, Becky and the rest of the family meet at an ice cream parlor. Becky tells everyone that she's found an apartment to live in, and buys a gigantic ice cream sundae for everyone to celebrate moving out. Homer is overcome with delight at the sight of so much ice cream, and faints into the giant bowl. Marge then walks in just as Becky is giving him mouth-to-mouth resuscitation. Believing they were kissing, she attacks. Now apparently willing to do their jobs, Wiggum and the cops arrive to arrest Marge.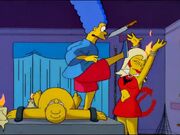 During the ensuing sanity hearing, a deeply critical board of doctors declare her legally insane. Before she can be committed, however, she dashes out of the hearing room. Now on the lamb, Marge quickly becomes a sensational fugitive and topic of wild media sensationalism and community gossip.
In secret, Marge ducks into the library to check up on Becky's history, which she assumes will be damning, but the microfiche contains nothing but positive stories. She then stumbles upon a story about herself ruining Otto's wedding, which prompts a moment of remorse. Maybe I am being paranoid, she thinks, and glumly returns home.
Upon entering the house, she finds Homer tied up in bondage gear, Lisa chained to the wall, Maggie in a cage and Becky holding a knife, about to plunge it into Homer's restrained body. A frightened Marge snatches the knife away and strangles Becky, only for an annoyed Bart to emerge from behind the curtains and scold Marge for ruining the music video he was filming for his school project.
Marge apologizes to everyone, which prompts the others to apologize too. Homer admits it was he who accidentally cut the brake line of Marge's car while changing the oil earlier. Becky then cheerily admits that she was indeed intending to kill Marge and steal her family, but gave up because it was becoming a hassle. Marge is pleased to hear this, as it validates her paranoia.
Just as everyone seems to be making peace, the doctors from the insanity hearing show up and fire tranquilizer darts into Marge's neck, attempting to subdue their escaped patient. Marge goes down, but then immediately pops back up, saying she's eager to get back to her duties in the home. To begin, she orders Homer to do some cleaning. Homer responds by shooting another dart into her neck, which finally renders her unconscious. 
Behind the Laughter
Reception
The episode's ending was used by Chris Suellentrop of Slate as an example in his editorial about the show's decline in quality, from a realistic show about family life into a typical cartoon.
Citations