Doctor Strange in The Multiverse o Madness - The Loop
Play Sound
| | | |
| --- | --- | --- |
| | Itchy & Scratchy: The Movie | |

This article is about the episode. For the movie, see The Itchy & Scratchy Movie.
"Bart, you can't go to see that Itchy & Scratchy Movie – ever!"
―Homer as he punishes Bart and forbids him to see the new Itchy & Scratchy Movie forever
"Itchy & Scratchy: The Movie" is the sixth episode of Season 4.
Synopsis
In order to curb Bart's constant misbehavior, Homer and Marge come up with the ultimate punishment: They forbid him from ever going to see the newly released Itchy & Scratchy movie.
Full Story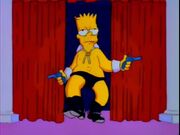 Homer and Marge go to the kids' school for Parent-Teacher night, with Marge reluctantly going to Bart's class, after Homer's persistent attempt to see Lisa's teacher. Although Lisa is given a good review by Miss Hoover and Homer is even applauded as a father, by stark contrast Mrs. Krabappel is appalled at Bart's bad behavior and forces Marge to write on the blackboard. She tells both parents that if Bart doesn't change soon then he'll look forward to nothing but a wasted life (i.e. an un-entertaining male stripper), but if the parents act now he could be the Chief Justice of the Supreme Court. On the car ride home, Marge becomes concerned about Bart's attitude and how Homer rarely punishes him. When they get home, they discover that Bart has broken Grampa's dentures while they were at the parent teacher meeting and Marge wants him sent to bed without supper as punishment. Bart seems to change his ways until Homer sneaks him some dinner and Bart promises to be good. The next day, Lisa learns about the upcoming Itchy and Scratchy movie and she and Bart immediately get tickets.
Later, Marge and Lisa go shopping, during which Bart causes more trouble at home and tricks his father into not punishing him. When the girls return, Marge learns of what has happened and orders Homer to punish Bart the next time he misbehaves as Homer agrees and decides to make the punishment stick. When Bart is asked to watch Maggie but doesn't (leading her to take the family car on a joyride and crash into the local prison, freeing several convicts), Homer angrily punishes him by forbidding him from seeing the Itchy & Scratchy movie for the rest of his life and tearing up his movie ticket. Bart asks Homer if he can have a different punishment such as a spanking, but Homer refuses because he's still grounded. After the film's release, Bart becomes extremely angry and jealous, sad, upset, and depressed that he fails to see the movie as everyone around him raves about it, with thanks to Homer. After two months, Marge and Lisa beg Homer to change his mind to let Bart see the movie because of Bart still being upset. Marge feels the punishment has made Bart learn his lesson, but Homer still refuses to ever let his son go because he's still grounded and he spoken about his punishment stick to make Bart become Chief Justice of the Supreme Court. Bart even sneaks over to the Aztec theater to buy a ticket, but learns that Homer told the movie theater not to sell Bart a ticket in two months ago, then Bart becomes even more depressed and feels breakdown.
Eight months (and nine Academy Awards) later, the movie officially leaves the theaters. Bart sadly admits that Homer has won, but Homer explains to Bart that they "both won" and that by using this punishment, Bart is in no doubt headed for a better life.
The episode then flashes forward to forty years in the future, where Bart (now he actually is Chief Justice of the Supreme Court) and Homer now the senior citizen walk down a street, and see that a theater has re-released "The Itchy & Scratchy Movie." Homer believes that Bart has learned his lesson, and the two enter the theater and watch the movie happily together as Homer gets confused about Itchy.
Reception
During the fourth season, The Simpsons usually aired on a Thursday, but "Itchy & Scratchy: The Movie" aired on a Tuesday because the executives at Fox had wanted to air an episode during the 1992 presidential election results because they felt it would mean increased ratings. Instead, the episode dropped from its normal audience.
"Itchy & Scratchy: The Movie" finished 25th in ratings for the week of November 2–8, 1992, with a Nielsen rating of 12.5, equivalent to approximately 11.6 million viewing households. It was the third highest-rated show on the Fox network that week, following The Simpsons episode "Marge Gets a Job", which aired in the same week on the usual Thursday, and Beverly Hills, 90210.
In the Spring of 2002, the episode was released in the United Kingdom on a DVD collection titled The Simpsons Film Festival, along with the season eleven episode "Beyond Blunderdome", the season seven episode "22 Short Films About Springfield", and the season six episode "A Star Is Burns".
Warren Martyn and Adrian Wood, the authors of the book I Can't Believe It's a Bigger and Better Updated Unofficial Simpsons Guide called it a "superb episode", especially "Homer's suggestion for punishing Bart's misbehaviour is to give him a present, and his trick for avoiding jury duty is 'to say you're prejudiced against all races."
"Steamboat Itchy" is one of Matt Groening's favorite moments in the history of the show. Nathan Ditum of Total Film ranked "Steamboat Itchy" as the show's 46th best film parody.
In 2014, The Simpsons writers picked "Steamboat Itchy" from this episode as one of their nine favorite "Itchy & Stratchy" episodes of all time.
Despite this however reception from fans went from positive to negative.
Videos
Citations