This article is about J.K. Rowling the real-life author and guest star. For the character, please see J.K. Rowling (character).
"I love The Simpsons because of the detail -- there are so many layers and it works for kids and for adults."
―J.K. Rowling
Joanne Rowling, better known by her pen name, J.K. Rowling, is the author of the Harry Potter book series.
Rowling appeared on The Simpsons as herself in the episode "The Regina Monologues," where she had a brief scene talking with Lisa.
In real life, Rowling is a longtime fan of the show, and was especially pleased with the Harry Potter spoof in the "Wiz Kids" segment of Treehouse of Horror XII, which showed Bart and Lisa going to wizard school.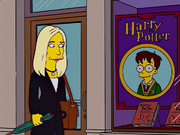 Trivia
Rowling's surname is pronounced with a long "o" sound, so that it rhymes with "bowling" (the sport). Though some people pronounce the W.
Appearances
External links
Community content is available under
CC-BY-SA
unless otherwise noted.