Wiki Targeted (Entertainment)
Play Sound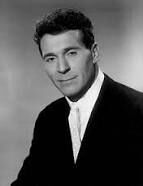 Francois Henri "Jack" LaLanne (September 26, 1914 - January 23, 2011) was an American fitness, excercise, nutritional expert, and motivational speaker who was sometimes nicknamed "the godfather of fitness" and the "first fitness superhero". He guest starred as himself in the episode "The Old Man and the "C" Student".
As a child LaLanne was addicted to sugar, making him commit violent acts such as attacking his brother with an axe and burning his parents house down. He was so weak his physician reccomened he should stay out of school for a while so he could rest and regain his strength. Around that time, he and his mother went to a lecture by Paul C. Bragg, a nutrioninist who told LaLanne that he was a human garbage can. LaLanne decided to change his life with a strict diet and some exercise. At the age of 18, he was running to his house from a bakery selling healthy breads and a home gym where he trained firemen and policemen in exercise and weightlifting. LaLanne's attitude as a physical fitness guru evantualy led to his 34-year stint as the host of the television's The Jack LaLanne Show (1951). There he taught exercise, and for the most part he aimed principally at homemakers using items he found around the home. Even as he was over 95 years of age, he continued to boast a fine form of development and encouraged fans with fitness and health tips throught writing and videos. 
He died on January 23, 2011 of pneumonia at his home in Morro Bay, California surrounded by his wife Elaine, and family and friends.
Appearances
Community content is available under
CC-BY-SA
unless otherwise noted.