Jurassic World: Dominion Dominates Fandom Wikis - The Loop
Play Sound
Jacques is a bowling instructor who pursued an affair with Marge Simpson in the episode "Life on the Fast Lane".
History
Jacques offers to teach Marge Simpson to bowl after she receives a bowling ball for her birthday. He is captivated by Marge and slowly tries to woo her. While at brunch, Jacques finds the courage to ask Marge back to his apartment in Fiesta Terraces. Though this happens off-screen, he presumably ends up alone when Marge chooses to stick with Homer. It is unknown what happens to Jacques after this. Marge believed that his last name was "Brunswick", because it was engraved on his bowling ball yet that was really only the brand of his ball.[1]
He is later as a part of a bowling team called the Home Wreckers, consisting of Princess Kashmir, Mindy Simmons, and Lurleen Lumpkin.[2]
He appeared in The Simpsons: Tapped Out as a character exclusively for the Pin Pals mini-event, and it's his very first appearance in a Simpsons video game.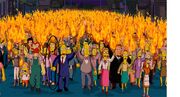 Personality
Jacques is somewhat of a Casanova and mainly seems to try to seduce his clients instead of actually teaching them anything. In later episodes he can be briefly seen. In Burns' Heir he is seen kissing Edna Krabappel on a secret camera. The footage is briefly seen in Burns's Surveillance Room.
Behind the Laughter
Jacques was voiced by Albert Brooks in the episode "Life on the Fast Lane", his second appearance on the show.
Beginning with Season 2, Jacques was in the opening sequence.
"Life on the Fast Lane" initially saw Brooks voice Björn, a Swedish tennis instructor, but Brooks thought a Frenchman would be funnier so it was changed.[3][4]
A picture of Jacques was hanging in a bowling shop in the episode Homer Alone, when Marge was going to fix Homer's bowling ball.
Coincidentally, Marge would later be revealed to be of French heritage, similar to Jacques's presumed country of origin.
Jacques loses his French accent when he yells the line "four onion rings," hinting that he is faking his accent and even his nationality. Though it could've been a mistake on the actor's part.
Trivia
Gallery
Appearances
Citations