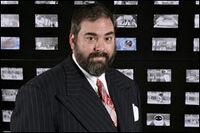 While at Cal Arts in 1986, Jim Reardon first made a student film, Bring Me The Head of Charlie Brown. The film became a cult classic and gained revived interest through YouTube. He was hired by John Kricfalusi as a writer on the 1987-88 cartoon series Mighty Mouse—The New Adventures. Afterwards, he wrote many episodes for the first season of Tiny Toon Adventures. In 1990 he was hired as an animation director for The Simpsons and he has served as supervising director on the series for many years. He left the staff to work on the Pixar film, WALL-E, and has also worked at Walt Disney Animation Studios on films such as Wreck-It Ralph and Zootopia which were directed by other fellow Simpsons alumni Rich Moore.
Credited Episodes
External Links
Community content is available under
CC-BY-SA
unless otherwise noted.