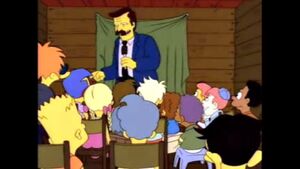 Jingle Bells is a popular Christmas song written by James Pierpont. It is featured in the show quite often, some of the most notable appearances being the very first episode, "Simpsons Roasting on an Open Fire"and "$pringfield (Or, How I Learned to Stop Worrying and Love Legalized Gambling)". Both versions contain a popular children's parody containing references to Batman. The latter was sung by the late Robert Goulet and appears as the seventh track on the album Songs in the Key of Springfield. It is also sung by Bart in "Itchy & Scratchy: The Movie. The song is also performed by Bart and Lisa in "Grift of the Magi "
Lyrics ($pringfield... version)
Robert Goulet:
Hi, are you from the casino?
Bart:
I'm from a casino.
Robert Goulet:
God 'nuf, let's go.
(At the casino...)
I'm afraid Robert Goulet hasn't arrived yet, sir.
Hmm, very well. Begin the thawing of Jim Nabors.
(Bart grunts as he tries to ride his bicycle with Robert sitting on the handlebars)
(At the treehouse...)
Robert Goulet:
Are you sure this is the casino? I think I should call my manager.
Your manager says for you to shut up!
Robert Goulet:
Vera said that? Hmm.
Jingle bells, Batman smells,
Robin laid an egg.
Bat-mobile lost its wheel
And Joker got away. Hey!
Thank you! Thank you very much. (swings his microphone and it hits Milhouse in the head) Oh, I'm sorry, kid.
Lyrics (Simpsons Roasting on an Open Fire version)
Principal Skinner: Ah, the fourth grade will now favor us with a melody--uh, medley of holiday "favourites".
All: Dashing through the snow;
In a one-horse open sleigh.
O'er the fields we go;
Laughing all the way. (Ha, ha, ha)
Bells on bobtail ring;
Making spirits bright.
What fun it is to ride and sing
A sleighing song tonight!
(Marge says the following over the last three lines of the second verse)
Marge Simpson: Isn't Bart sweet, Homer? He sings like an angel.
(Bart sings the following over the chorus)
Bart Simpson: Ohhhhhh! Jingle bells, Batman smells;
Robin laid an egg!
The Batmobile broke it's wheel;
And the Joker got away-!
(Gets taken away by Skinner)
Bart Simpson: Ahh!
Community content is available under
CC-BY-SA
unless otherwise noted.