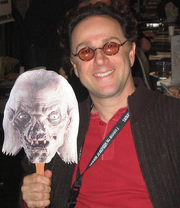 John Kassir is a guest star in The Simpsons who plays various animal sounds. He first appeared in "Marge Simpson in: "Screaming Yellow Honkers"" playing a possum and later in "Jaws Wired Shut"[1] playing the dogs in the parade. He also played the shark in Old Yeller-Belly[2]. John Kassir is best known for providing the voice of the Crypt Keeper inTales from the Crypt, a role he reprised in the children's animated seriesTales from the Cryptkeeper. He also did the voice of Buster Bunny in some episodes from Tiny Toon Adventures.
Citations
Community content is available under
CC-BY-SA
unless otherwise noted.