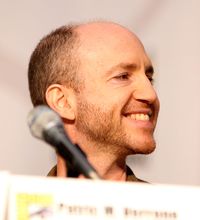 Kenneth Keeler (Born 1961) is a comic writer and producer. He has written for numerous TV series, most notably The Simpsons and Futurama.
Biography
After graduating from St. John's School in Houston, Texas, he studied applied mathematics at Harvard University, graduating summa cum laude in 1983. He earned a Ph.D. in applied mathematics in 1990; his doctoral thesis was on Map Representations and Optimal Encoding for Image Segmentation.
After earning his doctorate, Keeler joined the Performance Analysis Department at AT&T Bell Laboratories. He soon left Bell Labs to write for David Letterman and subsequently for various sitcoms, including several episodes of Wings, News Radio, The Simpsons, Futurama, and The Critic, as well as the short-lived FOX claymation show The PJs.
Keeler was instrumental in the creation of Futurama, and served as a co-executive producer in its first three years, and as an executive producer in its fourth year. He was one of the show's most prolific writers, with nine episodes to his name (including the series finale, "The Devil's Hands Are Idle Playthings", and the Writers Guild Award-winning "Godfellas"). Keeler wrote many of the original songs on both The Simpsons and Futurama during his time with the shows. He is also the writer of the now-released direct-to-DVD Futurama movie Bender's Big Score.
Writing Credits
The Simpsons episodes
Citations
External links
Community content is available under
CC-BY-SA
unless otherwise noted.