(18 intermediate revisions by one other user not shown)
Line 1:
Line 1:
 
+

[[File:Kim_Cattrall.jpg|thumb|173px]]{{Realworld}}

−

'''Kim Cattrall''' is an actor who played [[Marge]]'s friend [[Chloe Talbot]] in [[She Used to Be My Girl]] and the imaginary fourth Simpson sister (essentially reprising her role from ''Sex and the City'') in the episode [[Oh Brother, Where Bart Thou?]]. Her most well-known role is that of Samantha Jones in the TV series "Sex and the City".

+

'''Kim Cattrall''' is an who played [[Marge]]'s friend [[Chloe Talbot]] in [[She Used to Be My Girl]] and the imaginary fourth Simpson sister (essentially reprising her role from ''Sex and the City'') in the episode [[ Brother, Where Bart Thou?]] Her most well-known role is that of Samantha Jones in the TV series Sex and the City.

 
+
 
+

== Trivia ==

 
+

* [[Homer Simpson|Homer]] makes a reference to her show in the [[Season 12|twelfth season]] episode, ''[[Trilogy of Error]].''

 
+
 
+

==Appearances==

 
+

*{{ep|She Used to Be My Girl}}

 
+

*{{ep|O Brother, Where Bart Thou?}}

 
+
 
 
−

{{Guest star stub}}

 
 

{{Season 16 Guest Stars}}

 

{{Season 16 Guest Stars}}

 

{{Season 21 Guest Stars}}

 

{{Season 21 Guest Stars}}

 

{{DEFAULTSORT:Cattrall, Kim}}

 

{{DEFAULTSORT:Cattrall, Kim}}

 

[[Category:Guest stars]]

 

[[Category:Guest stars]]

 
+

[[Category:Recurring guest stars]]

 
+

[[Category:Female guest stars]]

 
+

[[Category:1956 births]]
---
Latest revision as of 21:25, 12 May 2018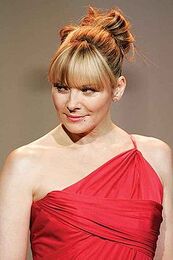 Kim Cattrall is an actress who played Marge's friend Chloe Talbot in "She Used to Be My Girl" and the imaginary fourth Simpson sister (essentially reprising her role from Sex and the City) in the episode "O Brother, Where Bart Thou?" Her most well-known role is that of Samantha Jones in the TV series Sex and the City.
Trivia
Appearances
Community content is available under
CC-BY-SA
unless otherwise noted.