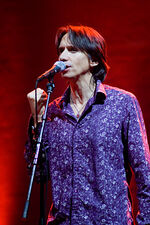 Christopher "Kipp" Lennon (born March 12, 1960) is a singer who has appeared in several episodes of The Simpsons. Lennon sings lead vocals and writes songs for the band Venice, with whom he has released 13 albums/CDs and other works since 1986. Lennon has released one solo album.
In "Stark Raving Dad", although Michael Jackson (credited as "John Jay Smith") performed the speaking part of Leon Kompowsky, a character who thought he was Michael Jackson, Lennon sung the songs because Jackson was only contracted to speak, not sing. He sang Jackson's songs "Ben" and "Billie Jean" as well as the original song "Happy Birthday, Lisa" written by Jackson.
Lennon also sang the songs "Flaming Moe's" (a spoof of the theme song from the TV series "Cheers") in the episode "Flaming Moe's", "The Sound of Grandpa" from "Lady Bouvier's Lover" and "Raindrops Keep Falling On My Head" from "Duffless". He also sang the original song featured in Kickin' It: A Musical Journey through the Betty Ford Center in the episode "The City of New York vs. Homer Simpson".
Appearances
External links